BSHS

softball's late-season surprise ends in regional final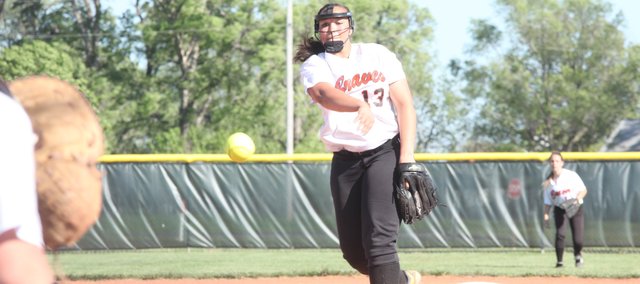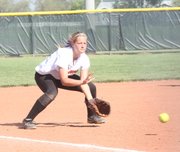 Eudora — Bonner Springs seniors Cassady Holloway and Geena Harris knelt together in the grass just beyond the base path between first and second, stealing a moment alone, their final one as BSHS student-athletes.
De Soto defeated the BSHS softball team, 10-0, in five innings in their Class 4A regional final at Eudora High on Tuesday, halting what had been a torrid last few games by a suddenly new-look Braves team.
"I don't think I would want to finish any other way except for going to state," Holloway said after leaving the field with the regional tournament's runner-up trophy.
After routing Tonganoxie, 18-3, the night before, BSHS (7-13) stuck to its script of surprise against another Kaw Valley League rival in Basehor-Linwood in Tuesday's semifinal.
BSHS struck first with two runs in the second, each coming off a two-RBI double by Megan Laughlin, who batted in both Harris and Mikaela Bennett and finished 3-for-3 with three RBIs and two doubles.
BSHS led 5-1 entering the bottom of the fifth on the strength of a two-run triple by Annie Carpenter, who beat the throw to third on the play. Carpenter finished 3-for-4 with two RBIs.
But in the bottom half of the inning, BLHS tied it with four hits on four runs. Its lead erased, BSHS responded with a four-run sixth. Katie Carpenter led off the inning with a single over the head of BLHS second baseman Kayleigh Schoenfelder and Holloway singled down the third-base line with two outs. BSHS scored all four runs with two outs in the inning. Harris batted in Katie Carpenter with a single and Bennett and Laughlin followed with back-to-back doubles, Bennett bringing in two runners and Laughlin one.
"Don't get mad at the team, don't get mad at yourselves. Just go out with the bats and take it back," BSHS coach Denise Chowning told the Braves before their game-clinching fifth.
Harris, who finished with five strikeouts, kept BLHS off the board for the final two innings to secure the win.
"It felt amazing," Harris said of the seven-inning win. "That's a big rival of ours. I was really glad that we beat them and our girls came together as a team."
Tuesday's semifinal was a far cry from the Braves' sweep at the hands of the Bobcats in league doubleheader play last month.
"I think the girls wanted to show them that," Chowning said.
Later, in the regional final, despite putting runners on base in every inning but the fifth, BSHS couldn't get on the board. De Soto meanwhile sealed it with a six-run fourth.
Against De Soto, BSHS met the 2012 state runner-up and a hard-hitting Wildcats team that returned more than a half dozen seniors from last season.
After losing seven players to graduation before the season, the departure of Holloway and Harris will still leave a young corps now accustomed to the taste of success.
"We're only going to be going up from here," Chowning said.