Bonner resident remembers time in Women's Reserve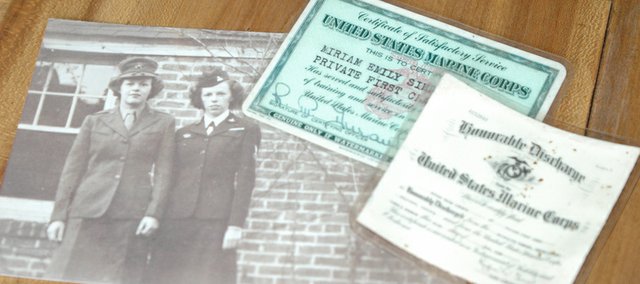 Miriam Krum's parents were not pleased when she told them she had joined the Marine Corps. They had refused permission a few years earlier, so she waited until she was 21 to sign up.
Reflecting on that decision 68 years ago, Krum, who now lives in Bonner Springs, said her parents "were horrified" when they learned she joined the military. But Krum says she was a very determined lady — there was a war going on and "it was a big event, I wanted to be part of it," she said.
As Veterans Day approaches — not to mention the birthday of the Marine Corps, Nov. 10 — Krum says she doesn't make too much of such days honoring her service. Still, she says she's a proud Marine.
"I remember one of my kids coming home from grade school," she says. "When a teacher saw his last name, he asked if his father was in the Marine Corps. My son said 'No, but my mother was!'"
Krum grew up on Long Island, NY, attending two years of college in Michigan before returning to New York to work. Her sister had joined the Navy a few years prior to Krum's decision to enter military service. Krum wanted to "start at the top and see who would have me," and she became a member of the Marine Corps Women's Reserve, founded in 1918.
Krum left her job in New York and went by train to Camp Lejeune, N.C. She remembers they learned marching, had a drill instructor and did physical exercise, but there was no weapons training.

"The very early female Marines did (weapons training), but then they decided it wasn't practical, so by the time I got there they weren't doing it," Krum said.
She recalls basic training lasted six or eight weeks and women from all over the country joined her.
Women Marines during World War II were assigned to about 200 different specialties, according to the history division of the US Marine Corps. Jobs included radio operator, parachute rigger, mechanic, map maker, motor transport support and welder, as well as clerical positions, which probably best describes Krum's duties. Her job upon graduation from basic training was at Marine Corps Headquarters in Arlington, Va.
"I was a messenger and delivered mail from one department to another. I also made coffee for a general and some colonels," she said.
She vividly recalls ensuring one of the generals had his LIFE magazine every Friday. Krum said she didn't have a very exciting job, unlike her sister who worked on airplanes in Hawaii, but she enjoyed being at Marine Corps Headquarters.
"It was interesting to be in the Marine Corps Headquarters building because they had murals on the wall depicting historical battles," she said.
Krum served only a year on active duty because the war ended while she was in basic training.
Krum had previously met her late husband, Jack, at Hope College in Michigan. The couple reconnected in Washington — he had returned from the Pacific, where he served three years in the Navy.
The couple married in 1946, and both finished their education at Michigan State University. Krum raised a family and followed her husband as he did research and development for a number of companies throughout the U.S. before settling in Kansas. They had four children, including son Andy Krum, who lives in Bonner Springs. Only one child, Eric Krum, followed in his parents' military footsteps — he retired from the Army and lives in Maryland.
Asked if she would join the Marine Corps today, Krum said, "I don't think I'd like combat, otherwise I would ... I would tell young women it's a good career, provided you get a commission because of the pay scale."