Feed His Lambs celebrates 2 years, hopes for growth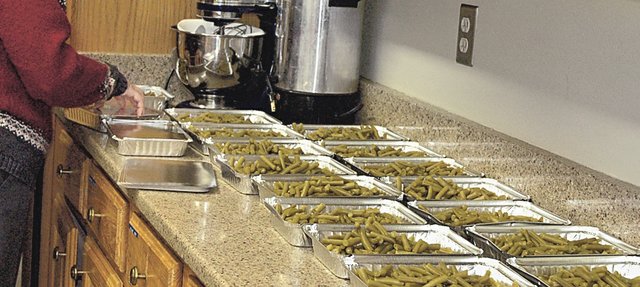 The stories of families helped by Feed His Lambs are endless.
Though the organization is set up to help provide a weekly meal to local families anonymously, the families sometimes will share information with Feed His Lambs volunteers.
There's the woman who comes to pick up her meal a little bit early, after she comes into town to get her children from school — she couldn't afford the gas to drive into town twice that day.
"She just told me a couple of weeks ago that if they did not have this, they would have no food in their house," said Patti Ward, who helped found the organization two years ago.
Another family also was trying not to rely on volunteers to delivered the meal to their home, but they had to call the volunteer at the pick up point, Bonner Springs United Methodist Church, to say they were running late one night.
"They said 'We're just trying to get enough gas money together to come from Edwardsville to Bonner,'" Ward said.
It's stories like these that help Ward and other Feed His Lambs volunteers know they are truly filling a need in the community. Since serving the first meal on Nov. 11, 2011, Feed His Lambs has helped feed more than 24,275 people — the thing the not-for-profit organization hopes for most now is growth.
But Ward says to grow beyond the 55 to 60 weekly meals they are currently able to provide, Feed His Lambs will need more funding, more refrigerator space, and most especially, more volunteers.
"If it wasn't for these incredibly dedicated volunteers, this program wouldn't work," Ward said.
The meal consists of a 9-by-13-inch pan of casserole, a salad, a 16-ounce container of fruit or vegetables and bread. Though the meals are delivered on Fridays, putting everything together is a week-long effort.
Volunteers go to Subway daily to pick up donated day-old bread; Ward also goes to Restaurant Depot throughout the week to shop for non-perishable ingredients. Two other volunteers on Thursdays pick up a case of lettuce and whatever meat is needed for that
Thursday nights, the "prep crew" of six to eight people come to prepare for the meal, from shredding carrots to browning meat.
Friday mornings, another crew of six to eight people comes in to put the meals together.
Friday nights, team of two people come in to bag the meals to get ready for delivery drivers. Three teams of two delivery drivers — currently two Edwardsville routes and one Bonner route. People who are able to do so come and pick their meal up at the church.
"We base everything off of the fact that they're going to serve five people," Ward said. "What we're aiming for is leftovers, because these people have no food over the weekend as a general rule."
Feed His Lambs find families in need by working with school counselors in USD 204.
"Primarily the people that we serve are not receiving government assistance; they've just hit a rough patch," Ward said. "They've either had a medical crisis or job loss or something."
Only a couple of families have been receiving meals since Feed His Lambs' inception; most rotate out because they are able to get themselves out of their rough patch, Ward said. But there are always others waiting to take their place.
Feed His Lambs has gotten some tremendous support in its first two years: an anonymous donation of $2,000 at its inception, three donated freezers, donated printing services for thank-you notes and brochures, not to mention numerous community fundraisers.
But because of the way families come into the program, Feed His Lambs largely only serves families with school-age children; Ward said they know there are families out there with young children and elderly couples who also need help.
"We're doing what we need to in the community, but we can think of ways (to help more)," Ward said.
The next Feed His Lambs fundraiser will be the Benefit Chili Dinner, held in conjunction with the Bonner Springs Christmas Tree lighting ceremony and parade. This year's event will be 5-8 p.m. Dec. 2 at the Sunflower Room in the Bonner Springs Community Center.
Red and white chili, drinks and dessert will be served. In addition, quarts of chili will also be sold for $10 each. Pre-orders of chili can be placed now by emailing PollyStock@sbcglobal.net or downloading the order form from the website, FeedHisLambsToday.org.