Olathe couple come 'home' again with equine ministry
Joycelyn Yates says that sometimes to gain clarity, you need to change your surroundings, which is why a horse farm is the perfect place to connect with your faith.
Yates and her husband, Mark, manage and run Freedom Farm, an 18-acre horse ranch in rural Bonner Springs, and its nonprofit equine ministry, H.O.R.S.E., which stands for Helping Others Reach Success and Excellence. They offer day camps, horse therapy, riding lessons and more.
"There's something about removing a person from their normal, everyday routine and surroundings and bringing them here where we have prayed over this place, and we know the Holy Spirit is here," she said. "... And then if you bring the horse into it, there's something about horses and the beauty that is in them that kind of just opens people up. So it's easier for you to share God's love with them in this type of atmosphere."
Though the ministry is only a little over a year old and the Yates don't actually own the property, it has been home for Joycelyn Yates for some time. She spent much of her childhood on the ranch when she and her sister rode horses there. She watched as it was sold to others and fell into disrepair, but now she and her husband are getting the chance to give the ranch a new life through the ministry.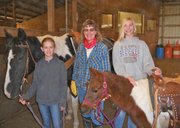 A home away from home
Joycelyn Yates first started learning about horses at age 10 when her mother bought a horse for her and her 17-year-old sister.
But they quickly realized they didn't know enough about horses to care for it and put an ad in the paper to sell it. They were contacted by Hank and Linda Perrin, the couple who owned the farm at 3601 S. 142nd St., then called Z-7 Stables.
"They noticed that here there were two young ladies who didn't know anything about horses with a horse," Yates said. "So they asked my mom if we could come out (to the ranch) with them."
The sisters started to visit the ranch frequently and the Perrins showed them how to ride and how to break and train horses. Eventually The Perrins took them to horse shows. For the Perrins, who had no children, Yates and her sister became family.
"They literally just took us in as their own," she said.
But as the Perrins got older and began having health problems, they couldn't maintain the property physically or financially. Joycelyn and her husband hoped to buy the property from them but didn't have the means, so they helped the couple sell the farm and move elsewhere. The man who bought the property basically let it sit vacant, so the Yates would drive out to visit the property.
"This was kind of home for many, many years for me, and we were really sad that we couldn't get it," Joycelyn Yates said. "But we would stop, walk around the property, and pray that someday God would use it."
Creating a ministry
Unbeknownst to the Yates, in April 2012, the ranch was purchased by a Christian family who charitably purchases properties they think can be used for ministries, but asks to remain anonymous.
On one of their regular visits to the property, the Yates ran into someone associated with the owners and learned of the plan for the H.O.R.S.E. ministry. They got some contact information for the couple that had agreed to run the ministry.
Joycelyn Yates later contacted the couple, hoping to learn more about a planned open house, and was told that the husband was soon to be transferred to California for his full-time job, so the ministry would be in need of new managers.
It so happened that the Yates already had been considering entering a full-time ministry. Mark Yates was a pastor for 14 years and a missionary for six years, but he left ministry service for a time after the end of his first marriage. The Yates met with the property owners and in September 2012 were selected as the new managers, along with Caity Bingham as the ministry's horse trainer and certified equine specialist.
"We just knew that was the way it was supposed to be," Joycelyn Yates said.
The Yates began remodeling the old farmhouse so they could live in it, selling their Olathe home in June. Two days after moving in, they began this summer's day camps.
The week-long summer day camps are for ages 5-18 and include Bible study, crafts, snacks, and horse lessons on different horse breeds and types, grooming and care, tack and saddling, training and, of course, riding.
"There's so much about horses that you can relate people's lives and their relationship with God to, that people get it; when they start working with the horses, it's just a connection," Joycelyn Yates said.
On a smaller scale, once a month year around, the ministry offers Saddle-up Saturdays, four-hour programs for children ages 8-12, open to groups or the general public. Other activities the ministry provides include bonfires for small groups, fundraisers for other ministries, horse boarding, and individual riding lessons for all ages, usually starting about age 5. Along with the therapeutic riding Bingham provides for those with disabilities, they hope soon to start a Horses for Heroes riding program through the Wounded Warriors organization.
Everything is run on a volunteer basis, so whatever funds come in from the camps and other activities go right into the H.O.R.S.E. account, which funds the care for the horses and property maintenance.
Finding support for growth
Work continues to get the property in tip-top shape, especially the barn and indoor arena, which began falling into disrepair with the Perrin's failing health and continued with the absentee owner.
"Twenty years ago, this barn was so much nicer," Joycelyn Yates said. "It's really gone downhill. You have to take care of things for them to stay up, and for a long time they didn't take care of it."
But help has started to come in. Volunteers have come from Lenexa-based Westside Family Church and students from Maranatha Christian Academy in Shawnee to help fix up the barn and maintain the property.
The ministry also started a garden this summer, joining the Kansas City Community Garden Society. The garden produced "an overabundance," Yates said, so a Lenexa church plans to help out with the garden to give produce to those in need next year. The same church plans to help replace a pump and waterlines for a well on the property to provide water for the garden and barn.
Additionally, the Wyandotte County Federated Republican Women's group has selected Freedom Farm as the beneficiary of several fundraisers, the first of which was held earlier this month.
Freedom Farm's next event will be a Fall Fun Daycamp for ages 5-12, 1-6:30 p.m. Saturday. Cost is $50 per camper, $40 for siblings, for a camp that will include pumpkin painting, games, grooming and riding horses, a hayride and a hotdog dinner and bonfire.
More information about Freedom Farm can be found at freedomfarmkc.com or facebook.com/h.o.r.s.e.atfreedomefarms.