BLEF

golf tournament gearing up for 10th year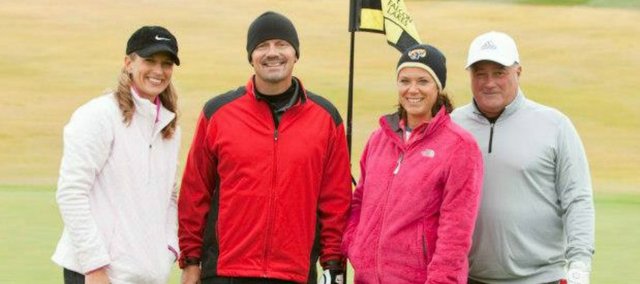 In 2004, members of the Basehor-Linwood Education Foundation came up with an idea for a fundraiser. A decade later, that idea has evolved into one of the foundation's premier annual events.
The BLEF is gearing up for the 10th installment of its Scholarship Golf Classic, scheduled for 1 p.m. Sept. 20 at Falcon Lakes Golf Course in Basehor. The event has raised nearly $10,000 every year, helping the foundation award more than $20,000 annually in scholarships and teacher grants.
"It's been huge ever since I've been here," said Basehor-Linwood superintendent David Howard, who came to the district in 2007. "Just in the time I've been here, we've raised over $60,000 just from this fundraiser. Even in the downturn of our economy, we've still averaged $10,000."
The tournament is played in a four-player scramble format at a cost of $400 per team, but individuals can also play for $100. Additionally, there will be a skins option for $20 per team.
Local businesses often field teams, but Howard said it's not uncommon for groups of friends to play as well.
"A lot of it is just guys and girls getting together to play, but it's probably more competitive than you might imagine," he said. "People bring teams in hoping to win."
The tournament is broken into two flights with prizes for the top three teams in each flight. Winners receive $300, runners-up receive $200 and third-place teams receive gift certificates to the Falcon Lakes pro shop. Last year's flight winners were teams from Ogden Financial/Security Benefit and Major Saver. Last year's tournament set a record with 96 golfers.
In addition to the tournament itself, there is a charity raffle that includes prizes from Falcon Lakes, Basehor-Linwood schools and various local businesses.
"One of the things we always tried to tout is, anything donated or used for a raffle, those all stay with the district," said Julian Espinoza, BLEF president from 2009 to 2012. "We've never had an issue with anybody contributing. From the smallest to the largest contributions, it goes a long way for us."
Businesses and groups can also elect to sponsor individual holes for $400 or — a new addition to this year's tournament — serve as a corporate sponsor for $500. A corporate sponsorship includes a logo on a banner at the awards banquet and a special thanks in the tournament program.
Espinoza, who has played in the tournament every year since its inception, praised Falcon Lakes for its work with the foundation in putting on what has become a successful fundraiser.
"They make our job really easy," he said. "Ultimately, they're the ones that do the behind-the-scenes work, and they're also big contributors with raffle prizes. They're always doing something to make the event go much easier."
Registration for this year's tournament will begin at noon. The awards banquet will be catered by Famous Dave's BBQ. Walk-up registrations are welcome, but teams can register in advance by contacting Basehor-Linwood communications coordinator Ashley Razak at 913-724-1396, Ext. 130 or arazak@usd458.org.