Bonner-based business helps anyone become an artist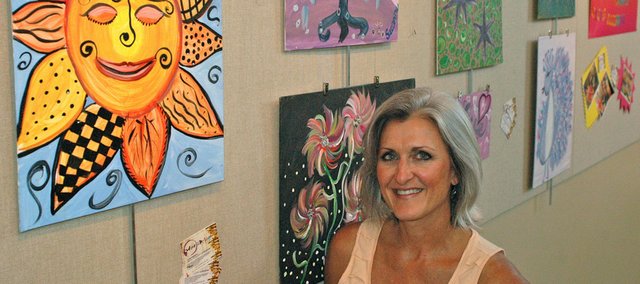 Suzanne Hern is turning everyday people into artists, if only for a little while.
Through her business, Wine and Design, Hern guides participants at monthly classes or private parties through the process of creating a painting of their own based on an example painting she created.
"I stand up and lead them step by step," she said. "What I always say is you don't have to be artistically talented. They're easy, they're whimsical, they're totally achievable paintings. I always say that you can create your masterpiece in two hours."
Hern decided to create the business about three years ago after attending a similar sort of event while visiting some friends in Florida. The idea really appealed to Hern, who has taken art classes throughout her life, from classes at the Nelson Art Gallery as a child to some college art courses.
"When I came back, I said 'This needs to be happening in Bonner Springs,' and there was nothing comparable," she said. "So I created it, and it's been going every month for about two and a half years now."
For a small fee per participant, Hern provides a canvas, paint, paint brushes and easels, along with her step-by-step guidance. The participants bring their own wine and food.
Hern said she tries to make her class affordable. She has heard of a similar business in Johnson County that charges $100 per participant, but her current fee is about 60 percent less.
She hasn't done much in the way of advertising, mainly getting the word out through her Facebook page, which can be found by searching "Wine and Design Bonner Springs."
She creates each class's main piece based on the season or current trends in decorating. For example, in January, she decided everyone was thinking about New Year's resolutions, so her monthly class painted a word. She has used a few of the popular example pieces twice but usually comes up with something new.
Sometimes Hern will even find inspiration at the class itself. Once, at a private party, the homeowner brought out a pillow with an interesting design on it, asking if it could be the basis for the painting.
"So I actually put the pillow up on the shelf and we painted that design," she said.
Despite her assurances that anyone can paint, Hern said she still gets a lot of participants who are nervous.
"A lot of people have not painted since they were in first grade. So it's scary," she said.
But she said she can see a change in most participants as they forget about worries related to jobs, kids and other pressures, and move their thinking process to the creative side of their brain.
"Once they start painting, their brain just switches, it relaxes," she said. "It's remarkable ... Sometimes people are funny; they just can't do it. But mostly I'd say the majority of people really have fun and they are proud of their painting."
Hern makes sure she takes a "class" picture of everyone with their painting at the end, which she says is her favorite part of the class.
"I'll paint a sunflower ... and there will be participants that paint the exact thing that I do, and then there will be the rebels, I call them, and they'll paint something totally off the wall," she said. "Their sunflower will be daisies, or they'll put a bug in it or something.
"That's the most fun for me to see — the variety of people's interpretations."
Hern is currently in the process of finding a new permanent space for her monthly classes. This month, the class will be at Bottle 12 Wine Bar in Downtown Bonner Springs, and next month, the class will be at Holy-Field Vinyard and Winery in Basehor.