First grader gathers goods for Vaughn-Trent pantry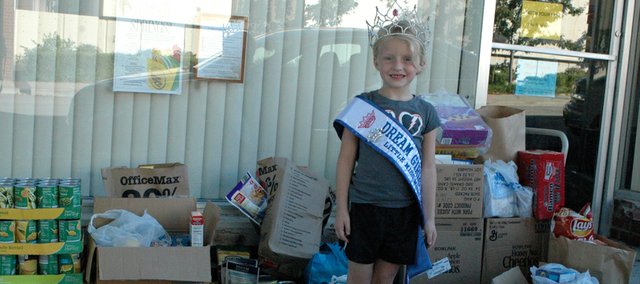 When Vaughn-Trent Community Services sent out a request for help, one first grader decided to respond in a big way.
On Monday, Leanna Larson, 6, and her parents dropped off 329 pounds of food to help the food pantry at the social services organization. The nearly 500 food items were gathered thanks to the help of friends, neighbors and even some strangers.
"It's amazing how the community responds," said Leanna's mom, Angie Larson. "We had a bunch of people who don't even know contact us and say 'Here's 25 cans.'"
Debbie Lohmann, director of Vaughn-Trent, said she put out a request for help on Facebook Aug. 27. The food pantry had given out 7,500 pounds of food through the end of July, and in the month of August alone, it gave 1,260 pounds to people in need.
So its stores were getting low — they were totally out of items like jelly and boxed potatoes.
The Larsons saw the Facebook request that evening and were discussing it when Leanna overheard.
"She's at that age where she eavesdrops, and she said 'Mom, can we help?'" Angie Larson said.
It's not the first time Leanna, a first grader at Bonner Springs Elementary School, has tried to help. She competes in pageants, including the Dream Girls USA pageant, and started doing volunteer work related to her competition.
That led her to begin creating and selling hair bows for $1 to raise funds for local charities. Recently, after raising about $100 with her bows over the last few months at events like Tiblow Days, she and her mom used the money to buy 80 pounds of cat food to donate to Bonner Animal Rescue's animal shelter.
Once Leanna got her parents on board to help Vaughn-Trent, they shared a request on the Bonner Springs Swap and Shop, a Facebook group that has 3,249 members. They said they had a goal of gathering 500 items, and they got a big response.
Leanna got excited each time the family got another a donation.
"She wanted to go with me every time we went to pick something up, and she always said 'thank you,'" Angie Larson said.
The pantry is still in need of items like cereal and canned meat. Donations can be dropped off at 9 a.m. to noon Monday, Wednesday and Friday at the Vaughn-Trent office, 304 Oak St., or at Hidden Treasures Thrift Shop, 205 Oak St., from 10 a.m. to 5:30 p.m. Tuesday through Friday or 10 a.m. to 3 p.m. Saturday.