Area moms provide birthdays for those in need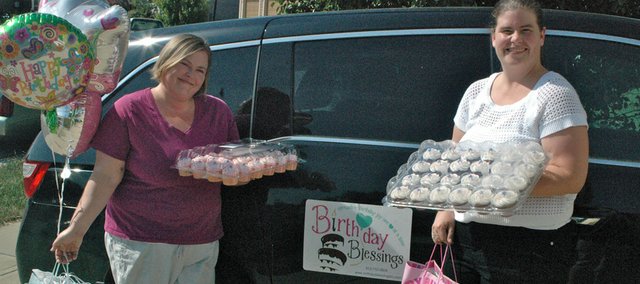 Two area women have made it their mission to ensure that every child gets cake and a present on their birthday.
Kelly Chambers and Jill Rangarajan of Kansas City, Kan., founded Birthday Blessings KC in 2011. The two live near Delaware Ridge Elementary School in Bonner Springs-Edwardsville USD 204, but their organization now helps children from four area school districts.
Chambers got the idea from her church, which was encouraging its members to become priests within their own backyard parish to serve their community.
"I had been feeling there was something that I wanted to do, but I wasn't quite sure what it was," said Chambers, who at the time had started providing cakes semi-professionally for friends and family's parties. "The last week of the series, it just hit that I was going to do cakes and birthdays … It just kind of worked out that I could help those that are in need celebrate their birthday and make their day a little brighter and a little more special."
Chambers wanted to provide a cake or cupcakes, a gift, balloons and a birthday card — all with the child's flavor and toy preferences in mind — to children ages 1 to 13.
"It's not a full-fledged party, it's just a basic necessities to have a personal birthday celebration within their family," Chambers said.
In the process of determining how to find children who needed the service, Chambers remembered that her neighbor, Rangarajan, was a school psychologist for Kansas City, Kan., USD 500. Rangarajan quickly agreed to help out and suggested asking schools to send out flyers.
"It just kind of took off from there," Rangarajan said.
The duo started approaching individual elementary schools, telling them about their organization and asking the school to distribute their flyer to its students.
"We started out small, because in the beginning it was just us who were trying to get everything coordinated," Rangarajan said.
But that didn't last long. They also started asking for volunteers and now have about 200, about 40 of them helping on a consistent basis. Volunteers can provide all of the components for a child's Birthday Blessing, or they can just contribute one item or be the one to make the birthday delivery.
Bonner Springs Elementary School principal Kim Mitchell is now one of those volunteers. She decided to take part after her grandson was born prematurely, only living for a few minutes.
"I was determined that I would slow down and take time to bring joy to others, and Birthday Blessings has allowed me to do that," Mitchell said. "Purchasing gifts, balloons, and baking birthday treats has truly helped to heal my heart and celebrate our sweet baby Hunter John Crary by helping (someone) have a special birthday."
Through birthdayblessingskc.com, both families interested in the services and volunteers can apply. Right now, they don't require any proof of hardship or income levels for those receiving a party; they only ask those who apply for a party why they are using their service.
"We started out with the assumption that parents who do need our services will take advantage of them, and parents who don't need it will either pass our flyer along to someone who might, or maybe they will offer to help us by baking a cake," Chambers said. "We don't have that (income) sguideline right now, but it is designed for kids whose parents wouldn't be able to get them a cake or a gift."
After beginning in the Kansas City, Kan., schools, they have now sought applicants through the elementary schools in the Bonner Springs-Edwardsville, Basehor-Linwood and Piper school districts. They also would like to get the word out in all of the area Head Start preschool programs, but they will need more volunteers.
The numbers of birthdays have been growing — Birthday Blessings averages about 30 birthdays a month. Usually summers are slow, but this summer has seen an increase compared to last year. They served 17 children in June, 36 in July and 25 in August.
With so many volunteers, Chambers and Rangajaran's duties now are largely administrative, but they still try to get personally involved with a birthday each month.
"We still try to keep ourselves in it as much as we can," Rangarajan said. "We want to make sure no matter how big we get, how much we grow, we're both still doing the things our volunteers are doing."