'

Kids Community Garden' hopes to grow again next year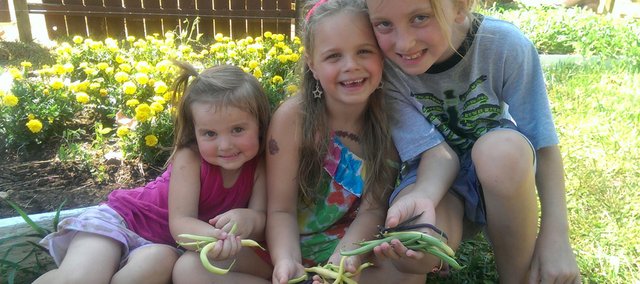 When it was in full bloom about a month ago, the Bonner Springs Kids Community Garden had a sort of crooked perfection.
"You see some things are in a row, and some are kind of not perfect? That's because all the kids planted these," said Amanda Miller, who founded and organized the garden.
After overcoming several hurdles in its inaugural year, Miller said she is excited about the possibilities for the garden's future. The garden's planning began back in January and it came to life quickly in a big way, and while some families who initially signed on did not stay involved, Miller has found a new community partner in Bonner Springs High School's Green Team.
The garden began as a way to teach children and their families how to grow their own, non-genetically-modified, organic produce. Miller said she has been researching genetically modified organisms — crops that have had DNA changed by genetic engineering techniques — synthetic pesticides and chemical fertilizers for several years.
"It's scary what's in our food, it really is scary, and it's really sad that people just accept it for what it is," she said. "When I realized just how much stuff is in our food and how depleted the nutritional value of our food is, I started growing food at my house, and for the past four years now I've had a garden. And I felt like it was time to present it to the community, because I know that some people aren't in a position to have a garden, or they don't know what to do."
It wasn't long after Miller came to that realization in January that the idea began to take on a life of its own. Miller found a property for the garden on Bluegrass road and started finding friends and other community members interested in participating. Then, broadcast newsstation WDAF Fox 4's Pay It Forward featured Miller's story and gave her $300 in "seed money."
"And that's exactly what we did with it," Miller said, explaining the funds purchased the heirloom seeds used in the garden.
Plants were grown from seed with the help of several families, but then the garden had its first pitfall — the property Miller planned it for fell through due to liability issues.
Thankfully her parents, who live near 118th Street and Riverview, offered the use of their property until a more permanent site could be secured. Because the soil there had a lot of clay material in it, Miller and her volunteers created seven garden boxes with recycled materials. A storage container, mulch and materials to build a fence were all donated through the community.
The garden's Facebook page grew to 192 likes, and by the spring, about 25 families were helping with the garden, with Miller there to guide their efforts to grow jalapenos, cucumbers, zucchini, watermelon, green beans, tomatoes and more, along with some flowers that act as natural bug deterrents.
"I am definitely not an expert, by any means, but in the past few years, I've had a lot of trial and error, and I read a lot," she said. "I try to stay up on what's going on as far as different kind of chemicals and what people are using and what to avoid."
Jennifer Hampton of Edwardsville, a longtime friend of Miller's, was among the families who helped out at the garden with her children. While they had been gardening a little bit at home, she said participating did help her children get excited about gardening.
"We did learn a lot of starting stuff from seed and using heirloom seeds versus the common seeds," Hampton said.
Unfortunately, between the strange spring and summer weather and busy schedules, the number of participating families dwindled to just a handful by the end of the summer. But, there was a bright spot — Miller began talking with Jason Romanishin, the teacher who leads the green Team at BSHS, about helping with the team's new compost program.
With compost to help create better soil, next year's garden likely will be in the ground rather than in raised boxes, allowing children to grow some of the items they had the seeds for but didn't have room for this year, like eggplant. Miller also will continue seeking out a better location, and she planned to meet with city officials to discuss using floodplain or other unused properties owned by the city.
Having gotten over the growing pains of her first year, Miller said she also hopes to get more families involved with a better schedule and this year, she'd like to teach the children the process of drying the seeds from what they grow so they can be used to plant the following year's garden.
"When you're offering a service to the community to work on together, sometimes it doesn't always pan out the way you want it to," Miller said. "But I definitely didn't lose steam; I'm not upset about it. I'm ready for next year, ready to start again and see what happens. With the high school stuff going on, it's kind of exciting."