Special ed students expand skills in new program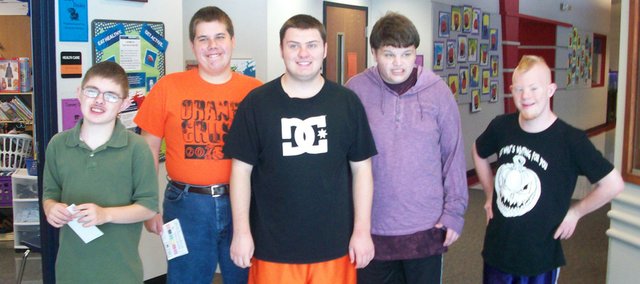 Jane Rink has loved having some extra help from some special high school students for the last few weeks.
Rink, media center aide at Bonner Springs Elementary, said the special education students from Bonner Springs High School have done a great job helping keep the library books in top shape.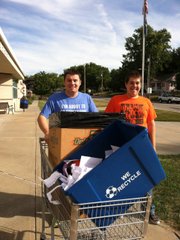 "They wash my books for me. Our books get handled by 400-plus students each year, and we don't have the time to wash them all down," Rink said, explaining that in just a few weeks, the high school students have become a lot more independent and confident in their tasks. "They are great workers … When they first came in, they were kind of unsure about what to do. Now, they walk in and just say 'Hi, Mrs. Rink,' and go right to work."
The students in the high school's Special Education Functional Life Skills program are getting out into the community this year thanks to their new special education teacher, Tierney Thompson, who previously taught special education at Bonner Springs Elementary.
Thompson moved to the high school level in January, and she said previously, the students weren't leaving the school very often. And it is important for the students to learn skills that will help them work as adults.
Special education students can stay with the high school program until they turn 21. Or, if they have the right skill base once they complete their senior year, they may go to a transition program like Prepare House in Kansas City, Kan.
"It was one of the things I really wanted to accomplish, getting the kids learning those functional work skills that they could start practicing in the community during high school," she said, "so that when they get to that transition age, they can go to a place and practice work, kind of like an internship, so they can be employed after they turn in 21."
So Thompson worked with BSE and Clark Middle School to arrange community-based jobs for transition students and juniors and seniors. Five students go to BSE on a daily basis to work on job skills like cleaning books, stocking milk, returning breakfast carts, washing windows, cleaning floors, delivering items for classrooms, filling mailboxes, making ice packs for the nurse and folding laundry when needed.
One transition student is working at CMS, helping the custodian stack chairs and clean tables after lunch.
The students sign in and out of their jobs and carry cards with directions of what they will be expected to do.
While Thompson is looking for other employers in the city who might be interested in having a special education student work with them to learn job skills in the future, she said it was good to start the program in schools where students were already familiar with the staff and building.
"They're able to practice their social skills, they're able to practice setting timers for themselves, being independent a safe and kind of a risk-free environment," she said. "And it is also giving us an opportunity to figure out what they like to do and what they don't like to do, what they're good at and what they need a lot more support with."
Their jobs provide opportunities for socialization and communication skills, as well. Rink said the students' work at BSE is creating some great interaction between them and the younger BSE students.
"They just look up to them as big kids that are helping out the media center, and that is really good, too," Rink said. "I've heard them over there, talking to them like they are just another big kid."
Soon, the underclassmen in special education will start jobs like refilling silverware, sorting books, dusting computers and recycling.
The job skills program is just part of the expansion of the special education program at the high school, which has grown by about nine students in the past two years. Thompson and co-special education teacher Julie Deason also have expanded the space for the special education program to triple its original size.
In addition to a regular classroom area, the special education room also has a sensory learning area and a kitchen, where they soon will add washer, dryer and oven. Each week they work on skills like shopping and baking.
Thompson said she also hopes her students can create their own businesses to learn about making money, like a drink delivery service for teachers.
For now, Thompson said she sees a difference in the students participating in the job skills program after just four weeks.
"They're becoming more and more independent," she said. "They're following check lists, they're setting timers; they're really doing quite well."