Liquor store offers wider selection of specialty wine, beer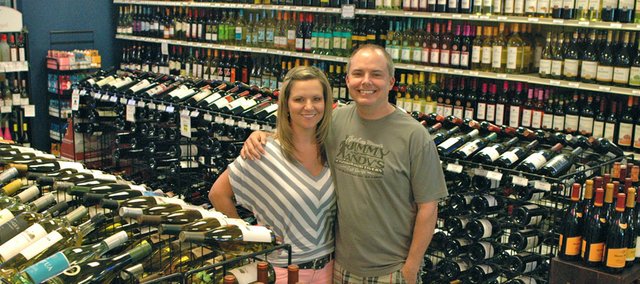 When Jeff Jones and Micki Drozinski planned their opening day for Grand Slam Liquor in Bonner Springs, they weren't planning on a snowstorm shutting down the city.
Their opening day in late February happened to be the same day as one of last winter's big storms.
"I told her 'What would be a better day to open up?'" Jones joked.
While there was nowhere to go but up from that point, after several months of operation, Jones says the business is exceeding expectations thanks to the help of the city, chamber of commerce and community.
Jones and Drozinski said this is their first venture into owning their own business after working several years for Holiday Sand & Gravel Co. Jones said he felt the same itch most business owners feel to work for himself after 20 years of working for someone else.
"All those years, I was building somebody else's dreams, and here, I have a chance to build my dreams."
They bought an existing store in Olathe but weren't happy with the location. Given their previous work experience and because they lived in western Shawnee, they decided to move the store to a location on Kansas Highway 7.
Jones said he saw the vacant space in the building at 608 Tulip Drive, just south of the Arby's at Kansas Avenue and K-7, and thought it would be perfect. He said the help the city provided also was appealing.
Jones said the store tries to offer items that previously couldn't be found in the area, along with creating good relationships with their customers.
"Our Bud Light is just like the guy's across the street, we just try to have to have better customer service," Jones said. "People come in all the time and say 'Hey, can you bring in this craft beer, or this type of liquor or wine.' We'll reach out to our reps and bring it in."
The owners decided to focus their efforts on offering a larger selection of craft beers and specialty wines that their competitors weren't providing, Jones said.
In addition to wine and beer tastings once or twice a week, Grand Slam tries to help those who want to expand their tastes in craft beers by offering "Mix a Six," in which customers can purchase a six pack with six different beers.
"So you can sample them without buying a whole six pack of something you might not like," Drozinski said.
Grand Slam also tries to ensure a large supply of already chilled beer and wines in their "beer cave" walk-in refrigerator.
Customers can take part in a customer loyalty program to earn points toward T-shirts, free bags of ice, discounted items or free pizza from the store's neighbor, Papa Murphy's.
Jones said partnering with their neighbors has proved beneficial, with the pizza shop's customer traffic improving Grand Slam's sales.
Jones said the business is now trying to get out in the community, helping out with the Bonner Springs-Edwardsville Chamber of Commerce's beer garden during Tiblow Days and with several events put on by Kobi's Bar & Grill in downtown Bonner.
"I can't stress how great the city has been to work with," Jones said. "We couldn't ask for better support from the city, from the chamber and from the public."