Bonner Springs business helps get new drivers on the road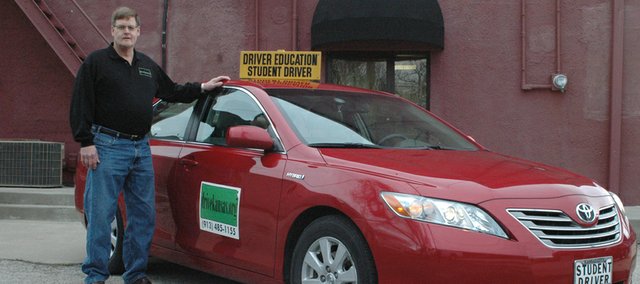 Timothy Ney thinks Bonner Springs is the perfect location for teaching new drivers the rules of the road.
He said the area offers rural roads with gravel, multi-lane expressways, residential streets and, not far away in Kansas City, Kan., urban streets.
"Bonner is blessed with a wonderful area to drive in," Ney says. "I'd personally like to see this become a Mecca of driver safety instruction for Kansas. We have a wonderful variety of driving environments to drive in."
Which is part of why in 2011, after retiring from his teaching career at Bonner Springs High School, Ney decided to open his own year-round driving school, Drivekansas Inc., in Downtown Bonner Springs. Ney says he wants to do what he can to make the roads safe and to help area residents obtain something that is almost vital to becoming employed in the Kansas City metro.
"In this area where we live, you about have to drive any place you need to work," he says.
Ney started teaching driver's education 12 years ago at BSHS, so he knew that in Wyandotte County, it was the only high school that offered a driver's education program, and that was only in the summers. He also knew the case wasn't much different in other nearby counties.
"We opened this because of the dearth of driver's education programs in the area specifically — a lot of the public schools are dropping the program from their curriculum, so we thought it was a need and we could fill a niche here," he said.
The state requires a minimum of 8 hours of classroom instruction and 6 hours behind the wheel for driver's education courses offered through a business rather than a school district, and Drivekansas offers a 10-day program.
The business draws drivers from Leavenworth, Johnson and Wyandotte counties, though Ney doesn't stray much beyond that because part of his service is to pick up his students at school or home to take their driving lessons.
Ney also does all he can to help local students for other reasons.
"I have a heart for the kids and … poverty is an issue in this county, and I think that's one way to address it," he said. "One way for kids to drive themselves out of poverty is to get a license and have a chance at a job, and I think that's an important aspect of our community that we need to offer our kids."
Ney said talking to new drivers about cell phone use while in the car has become a big part of teaching them in the past few years. During the class time, students always watch a video about the effects of texting or otherwise becoming distracted by cell phones while driving, and he allows students to bring phones in the car to teach real-time lessons.
"Some instructors just refuse to allow students to have cell phones anywhere in the car," he said. "I know students are going to have cell phones with them in the car when they're driving. So I try to teach them how to address that situation — they get a phone call while they're driving, what are they going to do? It's so easy to pull over to the side of the road and answer the phone."
Another recent change in teaching driver's education has been the age of the students — Ney said that new drivers in his classes have gradually been getting older.
"It used to be 14-year-olds, as soon as they had an opportunity for a license, they were wanting that license," he said.
Now he largely teaches 16-year-olds, which might be due in part to the state's graduated driver's license system, instituted in 2010, which requires a driver's permit and 50 hours of logged practice time with a licensed adult before a less restricted license can be obtained.
But Ney thinks it also might be partially due to increased technology, which allows teens to easily communicate with friends without being face to face, and the economy.
"You have to drive to have a job, but if you don't have a job, there's maybe not quite the critical, immediate need to do driving," Ney said.
Drivekansas can be reached at 913-485-1155 or drivekansas.org.