Fascination with trains leads to volunteer role at Baldwin City's Midland Railway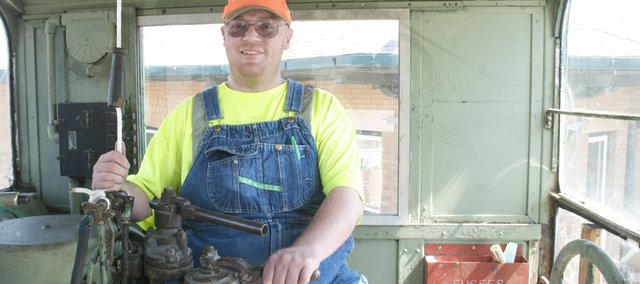 Mike Beem struck up a conversation with a stranger Saturday as they stood on the Santa Fe Depot's north platform waiting for a Midland Railway train to pull into the station.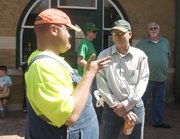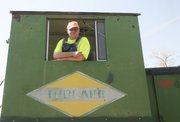 Words came easy to the two men as they talked trains and railroad. The stranger told Beem, a volunteer with the Midland Railway, he was retired from the Union Pacific Railroad and used to make regular runs through Kansas City west to Marysville.
"There's nothing like trains," Beem said as the two men parted ways.
A paraprofessional and substitute teacher in the Shawnee Heights school district, Beem has had a love affair with all things railroad since an early age.
"The story is that when riding in a car when I was 2 years old, I'd tell my mom and dad how to get to railroad stations in Topeka," Beem said. "I just loved that they were big and powerful and moving, and people on them were going somewhere without a care in the world. And if you waved to them, they would wave back."
It's a fascination that never waned and eventually led Beem to volunteer at Midland Railway as a 15-year-old Eagle Scout. There he found the camaraderie of like-minded people, who collectively make the nonprofit railroad work.
Other volunteers sitting Saturday in the depot's ticket office pointed to Beem when asked about volunteers who do the grunt work to keep Midland's trains rolling.
His nickname at Midland is "Super Beemer," Beem acknowledged, but he said his story was much like those of other train lovers who gravitated to the Baldwin City railroad.
"I started volunteering here in 1995," he said. "I started as a brakeman. I picked up more responsibilities as I gained experience. I'm also a fireman, conductor and engineer. Sometimes I think I almost live here."
Of course a Midland Railway brakeman doesn't operate the brakes on railcars any more than its fireman stokes coal into a the firebox to fuel a locomotive. Both are names taken from railroad history for jobs assigned to Midland Railway volunteers. Brakemen help passengers on and off the train and firemen assist engineers by ensuring crossings are free of traffic and watching gauges to assure the diesel engine is functioning properly.
"Everything here is done by volunteers, from selling tickets to maintaining the tracks," Beem said. "All the volunteers help with anything and everything. You have to be a master of all trades."
There are volunteers with specialized knowledge acquired from railroad careers, such as road master Mike Wnek, who is charged with inspecting the condition of Midland's 12 miles of track.
Another volunteer with a trained skill set is Dick Bell. The 76-year-old Belton, Mo., man was recruited in 2002 because of knowledge he gained as a railcar mechanic for the Norfolk Southern Railroad.
"I was already volunteering for another excursion railroad in Belton before I retired. Ernie Griffin was who got me over here," Bell said of the former Midland Railway president, who died in December. "I do all the maintenance on the locomotives and the cars. I enjoy working on them and seeing all the enjoyment people get from them."
Although he made more trips last week to help prepare for Midland Railway's Easter egg ride, he normally works one to three days a week in Baldwin City, Bell said. As trim as a distance runner, Bell said he would continue to volunteer at Midland Railway "as long as I can."
Among the many rolls Beem and Bell fill at Midland Railway is that of engineer. Bell picked up the skill while working in the maintenance yard at Norfolk Southern, while Beem completed a training program offered by Johnson County Community College. Operating the locomotive is the ultimate Midland Railway job and one he does whenever he has opportunity, Beem said.
"The thrill is just controlling all that power and knowing you are responsible for the safety of so many people," he said. "The first time I did it, I didn't want it to end and couldn't wait to do it again."