Roller Royalty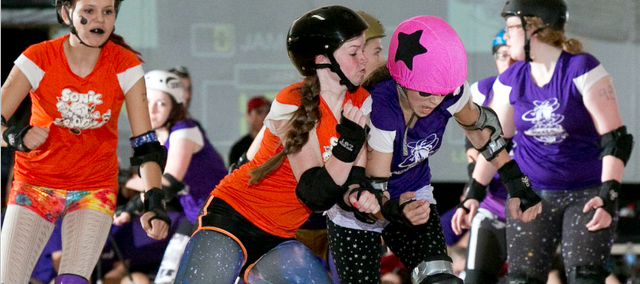 Lauren Murphy's favorite sport isn't typical for a 17-year-old.
The Bonner Springs High senior has to wear kneepads for both sports she participates in and her favorite isn't volleyball, which she plays for the Lady Braves.
Instead, her favorite sport is flat track roller derby, a sport her mother Jennifer Murphy introduced to her.
"When I watched my mom play, it seemed really fun," Lauren said. "It's different than other sports. It's on skates, you can hit people. It's really an adrenaline rush.
"In roller derby, I feel like I'm more of an authority — I'm more of a leader."
Jennifer, who said she skated when she was younger, began competition with the Knockouts of the Kansas City Roller Warriors in January 2008.
Jennifer, or Murphy's Law, which was her skating name, retired in 2012. She said her body was telling her it was time.
"It's always been a running joke in my husband's family that they're doomed with Murphy's Law," Jennifer said. "I picked my number — 15 — because I became a Murphy on July 15 of the year my husband and I got married."
Lauren, who could have picked any name she wanted, goes by Murphette and skates with Rolling Thunder. She will skate in her final junior bout on Aug. 24.
The junior league, which is for ages 10-17, skates in the summer unlike the senior circuit, which runs from November to April.
The junior girls are separated into intermediate and advanced teams depending on their skating skills. In order to skate with the junior travel team, girls must pass a skills test to be eligible.
Once Lauren turns 18, she is eligible for the Kansas City Roller Warriors, but she and Jennifer think it might be best to take a year off and focus on college.
"It would probably be pretty difficult because the transition to college is going to be difficult enough," Lauren said. "Adding roller derby is going to add a lot to that. I'll probably wait a year, but I'm not for sure yet."
There are women who are students or have full-time jobs or families, but still compete.
However, some time off might allow Lauren's body to heal, as this summer is her fifth year. She said she's currently dealing with shin splints that only affect her during roller derby and not when she plays volleyball.
"It is very empowering and the amount of confidence it brings is amazing," Jennifer said. "I've witnessed this with other teammates, the juniors and myself."