Swimmer completes plebe summer at
US

Naval Academy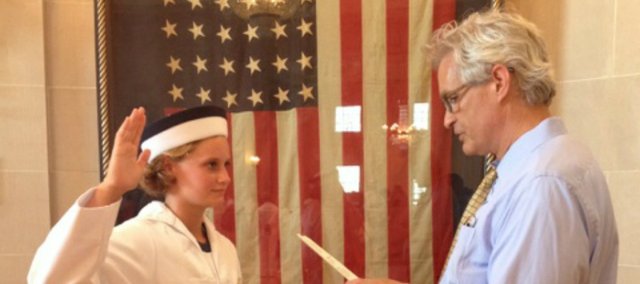 Ever since Augusta Garies was in middle school all she's wanted to do was attend the United States Naval Academy, even if that meant an end to her competitive swimming career.
The 2014 St. James Academy graduate had swimming offers from Kansas University, University of Minnesota and George Mason University.
"If I were to go to one of those schools, I was going to do (Naval Reserve Officers Training Corps)," Augusta said. "Once I got into the Naval Academy all bets were off."
Not only was Augusta accepted into USNA, but she will also swim for the Midshipmen.
Augusta was sworn in on July 1 and began her plebe summer — a six-week, boot-camp style orientation.
She said the past month and a half has been a whirlwind. Augusta is used to waking up early for swimming, but she's been getting up at 5:30 a.m. for morning workouts, which includes running, sit-ups, pull-ups and push-ups.
Augusta said her time at St. James prepared her in her faith. She didn't have her cell phone for six weeks. At night she would go to bed and be able to think and pray and thank God for an opportunity so few are admitted for.
"I do more before 10 a.m., than a lot of people do in an entire day and an entire week," Augusta said.
Augusta's mother, Jeannie, said Augusta would wake up at 4 a.m., be out the door of their Bonner Springs home 20 minutes later to arrive at swim practice in Roeland Park by 5 a.m. She would then swim until 7 a.m., and go to school. And on Mondays, Wednesdays and Fridays, she'd head back to Roeland Park for more practice from 4 to 7 p.m.
Augusta said this is different, and that there are times where she wants to take a nap at 2 p.m.
"You know you have to keep pushing through and realize this is for a bigger purpose," Augusta said.
She knew she wanted a different college experience than most of her peers. She wanted to be a part of something that wasn't about her, and that's what drew her to the Naval Academy.
"She'll tell me, 'Mom, I think I was meant for a life of service and I can't think of anything better than to serve my country,'" Jeannie said.
Before the Garieses left for Annapolis, Md., to move Augusta in, Jeannie's mother-in-law, who was house sitting, had a list of things to do, and she asked Augusta if she needed anything done while she was away.
Augusta took the piece of paper her grandmother had and wrote, 'Please take care of my parents.'
It's a testament to the selflessness she exudes.
St. James swimming coach Kellee Hercules said Augusta is the "hardest working kid I know."
"You know what (college coaches) all want to know now? They want to know what kind of kid they are," Hercules said. "Are they good students? Are they good people? They don't want to fool with kids doing stupid stuff or not making good grades because they don't have to.
"She cheered for everybody. She got everybody going. I'm going to miss all that. It speaks so highly of her character."
Classes begin Aug. 20, and Augusta said she's taking either 18 or 19 credit hours her first semester. She said time management will be important in balancing class and swimming.
Augusta said she's in the pool about four days a week with girls on the team from her class.
The plan is for her to swim all four years while at the Naval Academy. However, if she decides to hang up the goggles and swim cap, it won't affect her full-ride scholarship.
Once she is commissioned on May 18, 2018, she'll be either a Naval officer or a Marine Corps officer. She has to give a minimum of five years of service, but she wants to try and make a career out of it.
"It changes every day, but right now, I want to be a Navy (helicopter) pilot or (in the) Marine Corps," Augusta said. "I'm not sure yet, but those are my two big options right now."
If she decides to become a pilot, then she'll have to serve eight years minimum, but that's because more schooling is required.
Jeannie was nervous at first of Augusta attending the Naval Academy because of the structure and discipline of the school and the potential danger once she graduates.
"Junior year she got to do summer seminar where you get to do the life of a midshipman," Jeannie said. "I thought, 'This will be it. She'll come back and say, 'Woah, this is not for me.'' It was just the opposite. She was over-the-top excited. They told her, 'Don't come here and waste our money and your time if your intent isn't to become a Naval officer.' She said, 'Mom, this is all I've ever wanted.'"
Augusta said Jeannie knows she'll be safe, but in a different way. Augusta said Jeannie knows Augusta will be doing something she likes, something she's good at, something that will give back.
"Junior year she was asked to be a peer mentor for a kid with special needs," Jeannie said. "I asked, 'What does that entail?' She said, 'I have to take the class with him.' I said, 'Oh, no, no, no, no.' I said, 'Two AP classes, three honors classes and you're swimming nine times a week? This does not work for me.'
"She said, 'Mom, the public schools have all kinds of resources for kids with special needs. But Johnathan's parents send him here for the same reason you send me and I'm going to do everything I can to help him succeed.' I think that was one of the proudest days of my life when she said that."