Face to Face: Bonner Springs pastor Matt Clough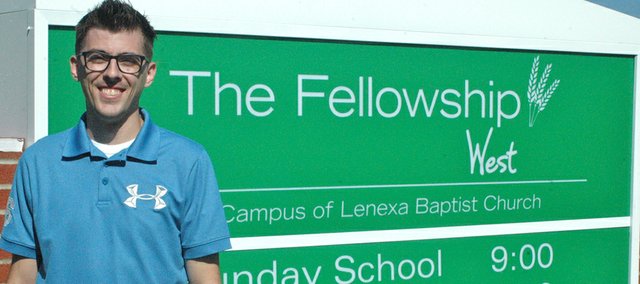 Name: Matt Clough
Birthplace: Winston-Salem, N.C.
Family: Wife, Meghan, and 2-year-old daughter, Charlotte
Occupation: Pastor for The Fellowship West, a campus of the Lenexa Baptist Church, 303 N. Bluegrass Dr. in Bonner Springs
Dream job as a child: Marine biologist or a lawyer.
"It all changed when I was 16: I accepted Christ," Clough said. "Then that summer, I felt like God was calling me to ministry."
Cough got his undergraduate degree at Oakland Baptist Ministry and since has been serving as a pastor across the country, most recently in Louisiana.
Hobbies: Clough said he is a big sports fan, following the Chiefs and Sporting KC, as well as the Duke Blue Devils in college basketball. He said he also enjoys fishing.
"Also, anything to do with my family," he said. "I love taking my daughter to the park; that's really the highlight of my week is my days off with her and my wife."
Digging Deeper: Clough has attended Lenexa Baptist Church since he was a teenager, back when the now 3,000 member church was more like 350 members.
The church's senior pastor asked Clough to come back to the area in December to help plant a new campus in western Shawnee, but repeated attempts to find a location with no success were leaving Clough discouraged.
Then the Bonner Springs Baptist Church, which had about 65 members, contacted Lenexa Baptist in the spring asking that they consider merging the churches and making the Bonner Springs church the new western campus.
"We really felt like it was just a good fit," Clough said.
A team of 100-plus Lenexa Baptist members helped with the merger and renovation of the existing building, and for the opening Aug. 10, the church welcome 303 people, and then 246 this past Sunday, and there are only 225 chairs in the main worship area.
Clough said the church is currently planning ways to get active in the community by providing tutoring, help provide meals and coats for those in need.
"We feel like the community really needs a positive impact and influence like this," Clough said. "There are a lot of people in need and we're going to try to be the people to meet that need."