Bonner Springs area braces for predicted snow storm
City says it is ready to clear streets; schools closed Tuesday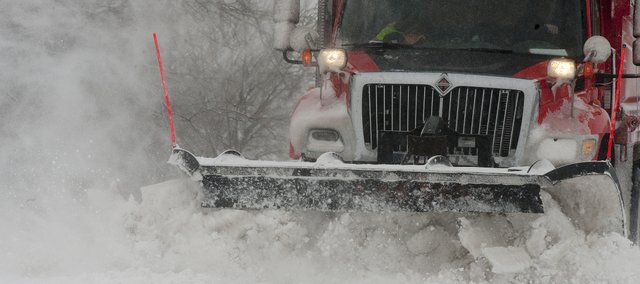 The Bonner Springs area could receive between 6 and 10 inches of snow Tuesday and early Wednesday.
The National Weather Service has issued a winter storm warning for northeast and north central Kansas, including Douglas and Jefferson counties, effective midnight tonight and ending 6 a.m. Wednesday.
Heavy snow and blowing snow are expected. Snow accumulations are expected between 6 and 10 inches, with up to 12 inches possible.
Another storm warning, which includes Leavenworth, Wyandotte and Johnson counties, is in effect from 6 a.m. Tuesday and 9 a.m. Wednesday.
Heaviest snowfall is expected between late Tuesday morning and Tuesday evening.
Snow accumulations are expected between 6 and 9 inches, with heaviest amounts expected along and north of Interstate 70.
Bonner Springs-Edwardsville USD 204 announced at 5 p.m. today that it would cancel school tomorrow due to the storm.
"Under normal circumstances, the district would usually wait until the morning of a storm to make an announcement; however, due to the severity of the storm along with all of the local meteorological forecasts, the announcement is being made early to provide advance notice to parents in order to allow them time to make alternative arrangements for daycare," Superintendent Dan Brungardt stated in an email.
The email went on to say that if school is cancelled for Wednesday, it will be determined by the amount of snow that has been received and the road conditions once the snow fall has slowed down. The district's goal will be to announce a school closure for Wednesday by early Tuesday evening. All parents will receive a message stating whether school will be open or closed through the USD 204 messenger service.
Burngardt also noted that temperatures for Thursday are supposed to be very low according to some forecasts.
"So far this winter, there have been several days with extremely cold temperatures compared to last year," the email states. "If the temperature is predicted to be too cold, the district may consider a delayed start time (Thursday) to allow time for temperatures to warm up."
Again, Brungardt said parents will receive a message stating what the plans are for Thursday some time during Wednesday evening.
The Bonner Springs City Library also announced it would be closed all day Tuesday. Any items due when the library is closed will not be assessed fines.
Kevin Bruemmer, public works director for Bonner Springs, says the city's six snow plows are ready to go. During last year's back-to-back snowstorms, there was a short period when five of the trucks were undergoing necessary repairs.
"As we speak, yes, all of our trucks are fully functional," Bruemmer said. "We plan to begin at 2 a.m. (Tuesday) and run on 12-hour shifts until we are done."
Check back for more weather information, including any school cancellations that might be announced.