Bonner Springs' El Potro fills Mexican restaurant void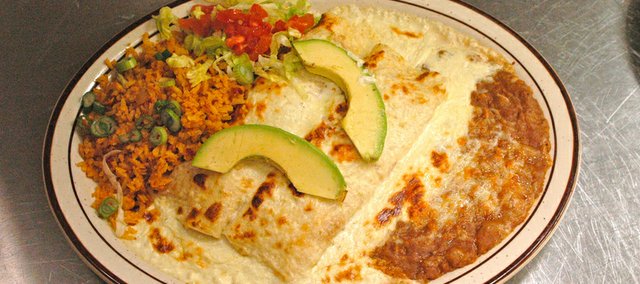 Gloria De La Torre says El Potro Mexican Cantina and Cafe is hoping to put an end to the Mexican food desert that is Kansas Highway 7 north of the Kansas River.
Bonner Springs and Basehor-area residents previously had to travel north to Lansing or south to Shawnee to reach a Mexican restaurant — even the restaurant-filled area surrounding the Legends Outlets Kansas City only has fast food-type Mexican chains.
That made the Canaan Center businesses at Interstate 70 and Kansas Highway 7 a great third location for El Potro, which originated in Paola and then opened a second restaurant in Lawrence.
"Bonner is growing, it's closer to Kansas City and the Legends, but there's no Mexican around here," says De La Torre, who is the manager of the Bonner Springs location.
El Potro took over the former Mazzio's building after it was purchased by the same company from which El Potro purchases its equipment. De La Torre said it was easy to come to Bonner because of how helpful the city staff was and the business incentives the city offered.
The restaurant was founded by De La Torre's father, who she says has been cooking since he was a child. He was raised in Michaocan, Mexico, and was the first of his family to move to Kansas. His brothers eventually came here and started the Mi Ranchito chain.
De La Torre says she has five sisters but only one brother, who inspired the restaurant's name, which is Spanish for colt.
De La Torre said the restaurant is known for its chili rellenos, tamales and cream cheese enchiladas, as well as their queso, the first serving of which is free for all diners. She added that the food is made fresh every day, and the restaurant offers three different types of beans, which she considers a sign of a good Mexican restaurant.
The menu offers lots of variety, including a large children's menu, she said. El Potro has several specials, including 99-cent tacos on Mondays after 4 p.m., and on Saturdays and Sundays, the restaurant offers breakfast tacos, burritos and other items.
"The tacos are big," De La Torre said. "We serve big dishes."
Word of the restaurant's Jan. 25 opening got out quickly, as many seemed to know its reputation from its other locations. De La Torre said they already have had diners from as far away as Lawrence and Olathe.
"We opened without advertising and we were packed," she said.
The restaurant should receive its liquor license next week and then will offer a full bar, and De La Torre said they plan to add a drive-thru service once it gets warmer. Another thing that will wait for warm weather is changing out the logo on the tall Mazzio's sign, which can be seen from the highway.
El Potro is open 11 a.m. to 9 p.m. Monday through Thursday, 11 a.m. to 10 p.m. Fridays, 7 a.m. to 10 p.m. Saturdays and 7 a.m. to 9 p.m. Sundays. The restaurant can be reached at 913-721-3000.