Promoting lunacy: Marble Crazy posters artwork in their own right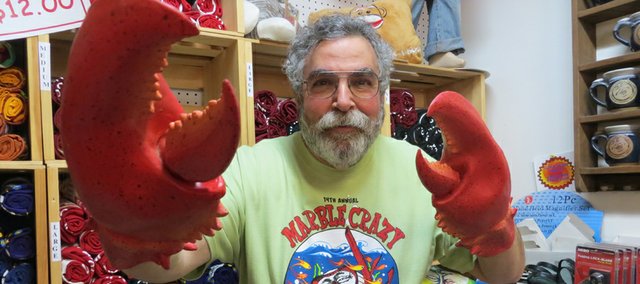 Each year, before the Marble Crazy crowds can converge on Moon Marble Co. in Bonner Springs, even before the 20-plus marble artists can set up their booths inside the business, there is an important task to complete.
For the last nine of Marble Crazy's 15 years, in the months leading up to the two-day event, Moon Marble co-owner Bruce Breslow takes out his sketch pad and draws up a whimsical poster to promote the event, which this year takes place March 7 and 8.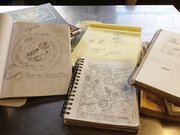 Always featuring Moon Marble's unique moon logo, the poster has mimicked a B horror movie, a comic book cover and a circus poster. While Marble Crazy promotes glass artists, its promotional posters are an artwork of their own right.
The annual poster is transplanted to promotional flyers, T-shirts and buttons, and Marble Crazy attendees also can buy the poster versions. The wacky designs have caught the eye of some regular attendees; last year, art glass collectors Jeff and Paula Snow of Blue Springs, Mo., said they enjoyed Marble Crazy so much that they had started collecting the posters.
The Moon Marble moon graces much of Moon Marble Co.'s merchandise and has become the center of most Marble Crazy posters. Breslow explained that the name of the store comes from marbles that, in Breslow's youth, were called Moons or Moonies.
"As soon as we decided to do 'moon' (in the store name), I started working on a moon drawing," said Breslow, who added that the small-eyed, pointy-nosed, big-mouthed moon man face references a medieval moon drawing he found. "He's really changed a lot through the years."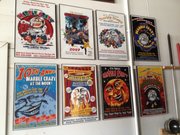 The first poster, in 2006, was a take on Ed "Big Daddy" Roth's crazy-eyed Rat Fink cartoon character, a "Marble Fink." The next year, the poster featured Oak Street under attack by flaming marbles, with some of the store's B Movie Victim toys crouching in fear and cut-out photos of each store employee hidden among the debris.
But since 2008, the Moon has been a central figure of the poster.
The 2012 event poster played on the unique connection between "moon" and "crazy." Breslow had visited the Glore Psychiatric Museum in St. Joseph, Mo., and learned that the word "lunatic" comes from the Latin "luna" for moon.
"In old times, people believed that if moonlight showed on you, it would make you crazy," Breslow said. "So I thought, 'I'll just make the moon look like he's a little crazy.'"
Breslow may come up with the basic ideas, but the posters become a reality thanks to Allie Borgschulte, who started working for Moon Marble Co. eight years ago.
Borgshulte is a Kansas City Art Institute graduate who became a Photoshop whiz over the years as she helped create Marble Crazy's posters and other artwork for the store, from ads and billboards to collector marble boxes and game board designs.
Borgshulte moved to Lincoln, Neb., with her family a few years ago but continues to work long distance on art projects for Moon Marble.
"I feel blessed to work for such a creative employer who has allowed me to exercise my own creativity, but has also taught me a lot about art, design, and creative approach to business," Borgshulte said. "I enjoy working for Bruce and Lynda (Sproules, co-owner) and intend to continue to work for them for as long as I can."
This year's poster features the Moon Man snorkeling under the sea, a nod to the first-ever Marble Crazy featured artists, Cathy and Colin Richardson, who create underwater scenes with glass.
Learn more about Marble Crazy at marblecrazy.com.