Bonner Springs athlete takes unconventional path to wrestling's biggest stage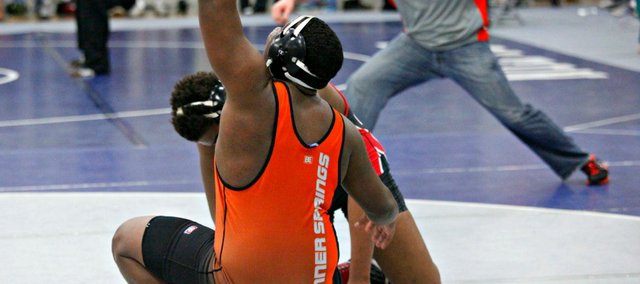 This is the first of two parts on the story of Johnathan Carter
Part two: A special bond between mother and son
He was one second away from a crushing defeat. One second away from his high school wrestling career ending. One second away from not achieving his season goal.
But one second was all he needed.
Some wrestlers want to win state, some wrestlers want to place, but all he wanted to do was qualify for the state's biggest stage.
The journey Bonner Springs High senior Johnathan Carter took to state was unconventional.
He didn't grow up playing the sport. He played football in the fall and basketball in the spring.
His mother, Lorna Simms-Carter, said when she and Johnathan first moved to Bonner Springs when he was 8, Dale Taylor, who coached the kids wrestling club, would take note.
"Every time Dale saw him, he said, 'Johnathan, you need to try wrestling,'" Simms-Carter said. "Johnathan said, 'Nope, nope, nope, nope.'"
Johnathan didn't decide to wrestle until his freshman year, after he was cut from the basketball team. He wanted to remain active and not sit around during the winter. He saw the advantages it could have for football.
He thought if he didn't like it after the first year, he could stop. But Johnathan instantly fell in love with the sport, which shocked Simms-Carter.
He told his mother that he "should have done this sooner," but she snapped back with, "Dale tried to get you to wrestle and you said no."
He didn't come in and succeed right away. It took him two full high school seasons to understand wrestling before having any semblance of success.
He's wrestled in the 220-pound weight class all four years. His freshman year he was on junior varsity and was pinned in the first round of every single match.
And he decided to come back for his sophomore season, where he was on varsity by default because the Braves didn't have any other wrestler at 220.
Johnathan went 1-21 in his second season, also winning a handful of junior varsity matches.
"I started gaining confidence more gradually," he said. "After my sophomore year, I knew I had potential. As soon as I got that first win, that really boosted my confidence up and let me know, 'Hey, I can do this.'"
He doesn't remember much about that first varsity victory. He doesn't remember what he did; he isn't too sure about what school his opponent is from, let alone his opponent's name.
What Johnathan does remember is his mindset of going into the match thinking he's going to dominate, and then he pinned him.
Johnathan didn't celebrate initially because he was so shocked, but after he realized he won, tears flowed down his face because he was so overjoyed.
Ask anybody and they'll say he keeps to himself. He'll show emotion, but very rarely.
The moment wrestling coach Brandon Jobe started to figure Johnathan out was at regionals of his sophomore year. Johnathan was drawn into the bracket and lost both his matches, which Jobe and the other coaches expected.
Jobe was dumbfounded about how upset Johnathan was because it was the end of his season. Johnathan was crying.
That's when Jobe knew he was going to be something.
"If you've taken this many losses and it still crushes you to lose, then you're going to make something of yourself," Jobe said. "It got to me. It was emotional for every single one of our coaches that a kid cared so much.
"A lot of times we get the exact opposite; guys that go through the motions," Jobe said. "'All right, I'm on the wrestling team.' But he was on the wrestling team and he wanted to be a big part of it and he wanted to be successful and he wanted to help his team. For a guy that had won one match and lost 50 in his career, that blew me away."
An underdog's mentality
He's not a physical specimen by any means. He stands at 5-foot-10 on a good day, and weighs 220 pounds. He's an undersized lineman.
"I've been told, ever since I was a freshman, that I would probably never start," Johnathan said. "I'd never qualify for state. That's what really motivated me. That's what struck my fire. I wanted to prove them wrong."
When Lucas Aslin arrived from Garden City Community College to take over the football program Johnathan's sophomore year, he barely noticed the quiet-natured lineman.
Some players get noticed because they're naturally gifted; others because they talk and are loud. Johnathan was neither of those. He's not flashy.
"That's how much he stuck out to me when he was a sophomore," Aslin said. "Guys were telling me when he was a younger kid — as a freshman, eighth-grader, seventh-grader — 'Coach, you would not believe how far he's come.' A lot of the other coaches tell me that he's come farther than any kid they've ever seen as far as development and athletic ability."
At first, Aslin thought Johnathan was somebody who didn't get it. He didn't understand how to work hard. Aslin didn't think Johnathan would develop.
His body has changed drastically in the past four years.
Looking back, Jobe said, Johnathan was obese; his body-fat percentage was probably triple what it is today. His body composition now is completely different. Jobe said he had no strength, no athletic ability.
"Things aren't always easy for him," Jobe said. "It's taken him years and years and years to get some things that some guys in our program pick up in a week. Guys that are multiple state champs will pick it up (snaps fingers) like that.
"It's taken him three years to pick up the same thing. That doesn't stop him. He keeps working and eventually he gets it, and it's starting to show."
Johnathan doesn't have the best technique, but he overcomes everything with pure determination.
He wasn't a gifted athlete, but he's worked himself to where he earned a starting spot in the middle of his junior year. He worked himself into a state qualifier.
"He works hard and doesn't say anything about it, which is a rare thing," Aslin said. "A lot of guys work hard, tell you about, tell you how good they worked. He doesn't say a word about it. He just lets his work speak for himself. He's an extremely accountable kid.
"He benches well, he squats well now," Aslin said. "He's one of those guys that never decided to listen to people saying he wasn't good enough. He kept working and plugging away. As a junior, I looked at him (and asked the coaches, 'What do you think? Do you think this guy could start?' 'No way.'
"Halfway through the year, a guy got hurt, (Johnathan) came in."
That changed the conversation. Suddenly coaches were saying, "'We should have started this guy before.' 'Coach, I didn't think he could do it,'" Aslin said. "Now he can, and he started every game the rest of the year."
Aslin has Johnathan in class for weights, where he's just as quiet. Aslin yells at him every day to poke at him. But Johnathan says nothing. He just works.
His work ethic didn't go unnoticed in the fall. The Kaw Valley League coaches recognized him with an honorable mention at offensive lineman.
"I came in the weight room, coming with the attitude I'm going to outwork anybody in this weight room and I'm going to be the best lineman Bonner Springs will ever know," Johnathan said.
He has signed a grant-in-aid to play football at Independence Community College, but is confident he will get a scholarship for wrestling.
He likes the two sports about the same and isn't sure which he'll want to do in college.
"It's hard to say because he loves both," Simms-Carter said. "He used to say football, but wrestling is right there too."
All about confidence
After a winless freshman season and a one-win sophomore season, Jobe never thought Johnathan would have had the junior season that he did.
Johnathan didn't think he would have the season he had, either, but things started to click at the Lee's Summit tournament. He went into his first match not expecting to win because his opponent had a better record.
But Johnathan blossomed to a 21-21 record and was within not just one match of qualifying for state, but one takedown.
"A one-win season to a 10-win season is a pretty good jump," Jobe said. "That's a steady improvement. From one win to 21 wins and damn near being a state qualifier is astronomical. Guys have been doing this their whole life. You don't jump into this sport and become successful right away, it doesn't happen. If you improve by 10 wins a year, that's very impressive. He doubled, tripled our expectations."
Johnathan, who is 24-12 this season, went into the consolation semifinal match against Baldwin High's Tiler Garcia expecting to win, but a mistake in the second round shook up his confidence and he didn't think he could recover in the third, losing 2-0.
This year heading into regionals, he was confident. The way he saw it was that he'd defeated a majority of the bracket with the exception of three — Zeke Kissinger of Tonganoxie High, Bradley Hooper of Holton High and Chandler Carter of De Soto High.
Johnathan bested Hooper 2-1 in the championship quarterfinals, but lost to Kissinger 5-1 in the semifinals.
In the consolation semifinals, he was matched up againt Kasey Feyh of Wamego. The two were evenly matched, each not wanting to make a mistake and let a state berth slip from their fingers.
After the first period, it remained scoreless. Johnathan earned a point for an escape in the second period, but Feyh did as well in the third to force overtime. Nobody scored in the one-minute period, so two 30-second periods ensued.
Feyh was on defense first and earned an escape. Johnathan did the same when he was on defense to force a 30-second ultimate tie breaker. If no points were scored, the offensive wrestler would be deemed the winner, which was Feyh. Johnathan chose the down position because he scored the first points in the six-minute regulation match.
He was able to stand up, but couldn't escape and the two went out of bounds with about 15 seconds remaining forcing Johnathan back into the down position.
The referee blew the whistle to resume play and Johnathan stood up again, was able to kick his leg free and escape, earning a point just before time expired.
All he needed was one second.
Johnathan got down on the ground and pointed up at the sky while Feyh was dejected his season ended. Jobe gave a big arm pump. After the referee raised Johnathan's hand, he ran to his coaches and jumped into assistant coach Jacob Beck's arms.
Johnathan fell to Chandler Carter in the third-place match, but it didn't matter at that point. He was going to Salina for 4A state.
"It's all gravy from here," Jobe said.
Johnathan tweeted right after his match ended, "I did it! I'm a 2014 state qualifier!"
Then he tweeted two more times later that night.
"Still hasn't set in."
And now, Simms-Carter, who doesn't get to see her son wrestle often, will have one more opportunity to.
"Best feeling in the world was the fact that I made my mom proud," Johnathan sent to his 506 followers.
Part two: A special bond between mother and son