Face to Face: Edwardsville recreation lead Mike Martin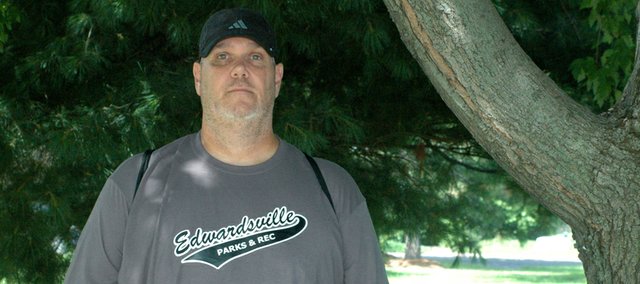 Name: Mike Martin
Birthplace: Kansas City, Kan. Martin grew up in Bonner Springs and graduated from Bonner Springs High School.
Family: Wife and three children, ages 6, 3 and 1.
Occupation: Edwardsville parks and recreation lead.
Dream job as a child: A fan of the Boston Celtics as a child, and of fellow BSHS grad Ed Nealy, who played for Kansas State University and in the NBA, Martin said his dream job was to become a basketball coach.
He was able to do so for about 11 years at the college level, coaching at five different schools, including Kansas City Kansas Community College and Benedictine College.
Hobbies: Martin is also a big hockey fan. He loosely followed hockey as a youth but said his love of the sport really caught on while he was a college student and followed the New Jersey Devils, formerly the Kansas City Scouts.
He has traveled for the love of the sport, visiting 24 of the 30 NHL arenas and has been to two Stanley Cup finals games.
Digging Deeper: Working for the city of Edwardsville wasn't exactly in Martin's long-term plans.
"I got out of coaching basically because of the travel involved with recruiting," he said. "The time commitment for coaching college basketball is not conducive to having a family."
He found himself taking care of the sport fields in Edwardsville City Park when Peter Yazbec, who oversees public works and parks for the city, asked if Martin would be interested in a full-time position.
"Really, I did a lot of the same kinds things for colleges; I ran camps and I did a lot of marketing, I was really big into the marketing side, which I'm trying to do here."
And Martin's efforts seemed to have worked; It has gone from three t-ball teams and one baseball team to five baseball teams, four t-ball teams and two softball teams. He created a T-Bones Awards Night for the Kaw Valley League, of which he became the president.
Now he is looking into other ways to expand the city's recreation programs for next summer, modeled after the city of Winfield, which offers arts and crafts camps over the summer.
"I want to be able to provide kids with some opportunities to have fun but also learn," he said.
More like this story