Kaw Valley League could be in for shake-up in coming years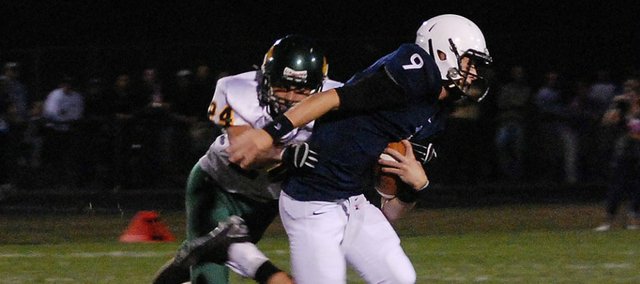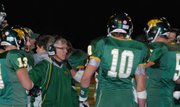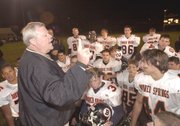 KVL Overview
Co-champs listed in italics
Basehor-Linwood
KVL tenure: 1983-Present
Came from: Jayhawk II
Football titles: 2000, 2001, 2009, 2010, 2011
Bishop Ward
KVL tenure: 2004-Present
Came from: Huron League
Football titles: None
Bonner Springs
KVL tenure: 2002-Present
Came from: Huron League
Football titles: 2007
De Soto
KVL tenure: 1983-2003
Came from: Pioneer League
Left for: Frontier League
Football titles: 1985, 1986, 1987, 1988
Eudora
KVL tenure: 1983-1985
Came from: Jayhawk II
Left for: Frontier League
Football titles: None
Lansing
KVL tenure: 1983-Present
Came from: Pioneer League
Football titles: 1988, 1998, 2005, 2007
Leavenworth-Immaculata
KVL tenure: 1983-2007
Came from: Big Seven
Left for: Delaware Valley League
Football titles: 1990, 1991, 1995, 1998, 2000
Mill Valley
KVL tenure: 2000-Present
Came from: Opened in 2000
Football titles: 2002, 2004, 2008, 2012, 2013
Perry-Lecompton
KVL tenure: 1983-2010
Came from: Jefferson County League
Left for: Big Seven
Football titles: 1989, 1991, 1999, 2005, 2007
Piper
KVL tenure: 1983-Present
Came from: Jayhawk II
Football titles: 1984, 1986, 1992, 1993, 2003
Santa Fe Trail
KVL tenure: 1991-2010
Came from: Mideast League
Left for: Big Seven
Football titles: 1994, 1996, 1997, 1999*, 2002
Tonganoxie
KVL tenure: 1983-Present
Came from: Pioneer League
Football titles: 1983, 1991, 2005, 2006
Turner
KVL tenure: 2009-Present
Came from: Independent
Football titles: None
Much like the recent conference realignments throughout the world of college football, it's not uncommon for high schools across Kansas to leave their existing leagues in search of new, perhaps more fitting homes for their athletic programs.
Area sports enthusiasts witnessed such a change a year ago when the Delaware Valley League separated after 32 years of competition. Following a recent scheduling change within the Kaw Valley League — home to Basehor-Linwood, Bonner Springs and several neighboring schools — it appears the local landscape could be due for another shift in the not-too-distant future.
Starting this fall, Mill Valley, a Class 5A school and KVL member since the school's inception in 2000, will no longer include 4A schools on its football schedule. The Jaguars own a 13-game win streak against KVL opponents, but because of their new schedule, they'll only play fellow 5A league schools Lansing, Bonner Springs and Turner this season.
"I think everybody was supportive of (the change)," said MVHS coach Joel Applebee, who led the school to the last two league titles. "The decision to do that was very mutual between the 4A schools and us. They actually approached us about it, but it was probably the route we needed to go. We need to start playing those sizes of schools to match our growth in our school."
According to the Kansas State High School Activities Association's new football classifications, which begin a two-year cycle this fall, Mill Valley is the fourth-largest 5A school in the state with 997 students. That's nearly twice the size of Basehor-Linwood, the KVL's largest 4A-I school, and more than three times the size of Bishop Ward, the only 4A-II school.
Non-football classifications won't come out until the upcoming school year has begun, but Applebee said it's possible Mill Valley could be a 6A school by that count. Football classifications only count freshman, sophomore and junior classes from the previous year's enrollment.
Bonner Springs has also been a 4A school for several years, but is the state's smallest 5A school in the new football count with 554 students.
No additional plans are currently in place, but the move by Mill Valley could be an indicator of things to come for the KVL. The Jaguars likely will be a 6A program in all sports by the next football cycle, and a departure could lead to an exodus among other schools as well. As recently as 2011, Basehor-Linwood, Tonganoxie and other schools had expressed interest in joining the neighboring Frontier League, which is solely comprised of 4A schools.
How we got here
The modern-day KVL has already seen its fair share of shake-up since its foundation more than 30 years ago. A reprise of a league that existed from 1925 to 1937, the current KVL began competition in 1983 with eight members — seven of which came from leagues that folded the year before.
Tonganoxie, Lansing and De Soto came to the KVL from the Pioneer League. Meanwhile, Basehor, Eudora and Piper came from the Jayhawk II and Perry-Lecompton from the Jefferson County League. The remaining school, Leavenworth-Immaculata, came from the Big Seven, which still exists.
Eudora was only a league member for two years before leaving for its current home in the Frontier League, and the KVL remained at seven members until adding Santa Fe Trail in 1991. The only other change during that stretch was the consolidation of Basehor High School and Linwood High School in 1988. Linwood spent three separate stints in the original KVL in the '20s and '30s.
Mill Valley became the KVL's ninth member when it opened its doors in 2000. Two years later, the addition of Bonner Springs from the Huron League led to a split into two five-team divisions.
Membership toggled between nine and 10 members over the next several years. De Soto left for the Frontier League in 2003, but Bishop Ward came over from the Huron League a year later. Immaculata left for the now-defunct DVL in 2007, then formerly independent Turner joined in 2009.
In the league's most recent move, Perry and Santa Fe Trail left for the Big Seven in 2010, leaving the KVL with its current eight members.
Up for grabs
Mill Valley and Basehor-Linwood have combined for the KVL's last six football titles, but the league's history hasn't been dominated by one particular program. BLHS, Mill Valley, Piper, Immaculata, Santa Fe Trail and Perry are tied with five football titles each, while Lansing, Tonganoxie and De Soto have four apiece.
According to macfeesports.com, the league title has been split by at least two schools on nine separate occasions.
"It seemed like every two years, someone jumped up and was really good," said former BLHS coach Steve Hopkins, who led the Bobcats to three straight titles from 2009 to 2011. "It seems like it's cyclical, but what I like about it is someone might be down this year, but in two years, they might be dominant. That's a sign of a competitive league, and that's not always the case across the state."
Hopkins, now an assistant coach at Leavenworth, but still a teacher at BLHS, led the Bobcats to arguably the most successful run in league history, winning a record 20 straight KVL contests from 2009 to 2012. The Bobcats are the only team to win outright league titles in three consecutive years and one of just three to go undefeated in league play in back-to-back years. Santa Fe Trail first accomplished that feat in 1996 and 1997, and Mill Valley did so under Applebee in 2012 and 2013.
Tonganoxie has gone undefeated in KVL play twice. It went 7-0 to claim the inaugural league title under coach Marvin Moles in 1983, then did so again to win its most recent outright title under Mark Elston in 2006.
"It's absolutely great for the community," said THS defensive coordinator Matt Bond, who was on Elston's staff during the Chieftains' latest league title run. "It gives people something to talk about and to come watch. As far as the kids in the program, it's a motivator for them. They get to see those trophies and those banners go up in the locker room, and it's an expectation to live up to."
The Chieftains were also co-champs in 1991 and 2005, sharing the crown with two other teams both times. Meanwhile, Bonner Springs won its only league title in 2007, going 5-1 under Lew Kasselman and splitting with Perry and Lansing. Eudora, Ward and Turner are the only programs in league history without a title.
What's next?
Mill Valley's recent schedule changes don't necessarily have a major impact on all league schools, but as the school's enrollment continues to grow, so does the shared belief that a change in membership will soon be necessary.
"I think it's far smarter for them," Hopkins said. "If they chose to stick around and play, it would be really difficult. They've gotten to a point where it's not going to make them better. If you've got a bigger house, you've got more lumber, and they've got a lot of lumber."
No league members have explored other options since four schools' applications for admission into the Frontier League were denied in February 2012, but it's possible that other avenues could be explored in coming years.
In place of the KVL's 4A schools, Mill Valley has added mostly larger opponents from other leagues, including two from across state lines. Included on their schedule are reigning 6A state champion Derby — where Applebee was an assistant before coming to MVHS — and Missouri schools Staley (Class 5) and Southwest Early College Campus (Class 3).
"It's going to be a tough, tough schedule we have now," Applebee said. "We expect each week to be a heck of a challenge."