Seaton prepares for junior world championships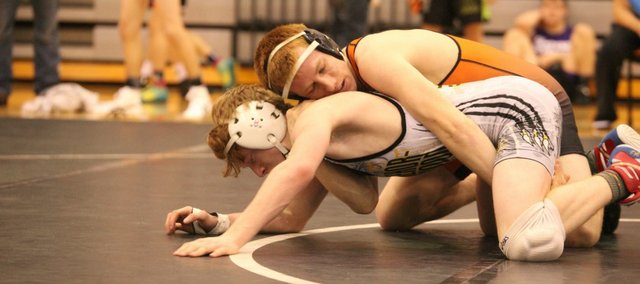 Josiah Seaton's 2014 on the wrestling mat has been nothing short of stellar.
The 2014 Bonner Springs High graduate was an undefeated 4A state champion at 113 pounds in the winter, and in May he qualified for the FILA Junior World Championships in Zagreb, Croatia, which will be held from Aug. 5-10.
Seaton qualified for the Greco-Roman championships at 50 kg (about 110 pounds), a style he has only wrestled at the Junior and Cadet Freestyle & Greco-Roman National Champions held in Fargo, N.D., each July, and a handful of other summer tournaments.
Unlike the high school season, which allows Seaton and other wrestlers to use their legs, Greco-Roman is upper body only.
"I like the top and bottom," Seaton said. "It's like grinding guts out. I also like how you get the chance to throw people."
Seaton may only have one chance to throw his opponents as he's only guaranteed one match in the single-elimination tournament.
Seaton isn't nervous about the plane ride, which will only be the second of his life, or leaving the United States for the first time.
He's nervous about his opponents.
"I'm most nervous about going down there and wrestling different types of people from around the world because I've never done that before," Seaton said. "I've only wrestled kids from America. I've never wrestled anybody from out of the county. It will be a new experience."
He doesn't know anything about his opponents and he'd like to keep it that way. Even if he wanted to watch film on his potential opponents, he wouldn't know how to obtain it.
"I don't really like to look at my opponents because then I worry too much about what they're going to do instead of me trying to do something I need to do," Seaton said.
Leading up to Croatia, Seaton practiced twice a day, and some days he'd get up early and run.
"Usually I train with (2014 BSHS graduate) Dominic Salvino," Seaton said. "He's my main partner. Then my college coach — coach (David) Nordhues from Colby Community College — will either come down to Bonner or I'll go up to Colby and train together."
He's been keeping the same schedule since he went to Las Vegas for the FILA Junior Nationals.
On July 20, he left for a 10-day camp at the Olympic training facility at Northern Michigan University in Marquette, Mich.
From Michigan, Seaton will head to Croatia.
His family isn't going, but there is a chance Braves wrestling coach Brandon Jobe might go.
"It would mean a lot to me," Seaton said of Jobe traveling to Croatia. "He's the one that got me hooked into Greco-Roman. He's the reason I'm so good."