Seaton caps off perfect season with state title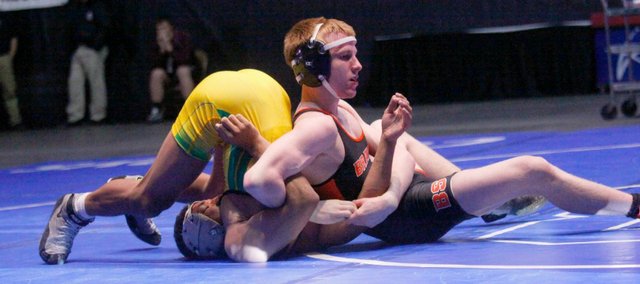 Salina — When Josiah Seaton wrestled for a state title last season, he watched his opponent — Augusta's Jake Goldenstein — get his hand raised at the end of the match. As it turns out, though, that was the last time Seaton would lose in a Bonner Springs uniform.
Now a senior, Seaton capped off a 39-0 season Saturday with a 113-pound state title at the Class 4A state meet in Salina. He went 4-0 with four pins — all in the final minute of the third period — including a pin of Pratt's Trae Foreman with 40 seconds left in the title match.
"He's a kid that did absolutely everything I ever asked of him, times 10," BSHS coach Brandon Jobe said of Seaton. "I've always been confident in him because of his work ethic. Whenever he lost, it was a surprise to me because I know how hard he works."
One of five BSHS state qualifiers, Seaton became the third Brave to post a perfect record in the last two years. He joined 2013 seniors Jonathan Blackwell and Aaron Puckett, who accomplished the feat at 152 and 170 pounds, respectively. Seaton was one of four Class 4A wrestlers to go undefeated in 2014. Others were Basehor-Linwood's Corbin Nirschl (31-0 at 106), Pratt's Cesar Regalado (28-0 at 120) and Smoky Valley's Austin Cook (44-0 at 170).
The road to the title started against Independence's Arthur Jesse, whom Seaton pinned with seven seconds left. He followed that up with pins of Santa Fe Trail's Bryce Erickson (5:42) and Goldenstein in a rematch of last year's 106-pound finals (5:46) to set up his finals matchup with Foreman.
Seaton controlled each match, outscoring his opponents by a combined score of 46-2 before pinning them. His only two points allowed came via a takedown by Foreman in the championship.
"He had a mindset of dominating," Jobe said. "I don't know if he planned on pinning everybody, but he planned on dominating. He trains to win big matches, and he trains to wrestle six minutes or longer, so he was prepared for just about any situation that was going to be thrown at him."
The state tournament appearance was Seaton's fourth, and the medal was his third. He took fourth as a sophomore in 2012. Seaton could not be reached before The Chieftain's print deadline on Wedsday.
Junior DJ Ballard complemented Seaton's title with a third-place finish at 120 pounds. After winning his first two matches, Ballard suffered a 2-1 setback against Anthony Scantlin of Mulvane in the semifinals. He rebounded on Saturday, though, winning back-to-back matches to claim a consolation championship. He clinched third place with a 6-2 win against Curtis Burnett of Independence.
"(Ballard) did a great job this year of training and doing everything he can to put himself in good positions. I'm real happy with him finishing third. It's not what he wanted, but he left it out there every single match. That's all you can ask for.
Collin Wallar (126), Bryan Lanning (152) and Johnathan Carter (220) were also in action over the weekend, but failed to medal. All three went 1-1 in Friday's opener, then were eliminated when they dropped their first matches on Saturday.
As a team, the Braves finished in a four-way tie with Buhler, El Dorado and Tonganoxie for 10th place with 48 points. Holton repeated as state champ, winning the team title with 114 points — 38 more than runner-up Chanute.