A special bond between mother and son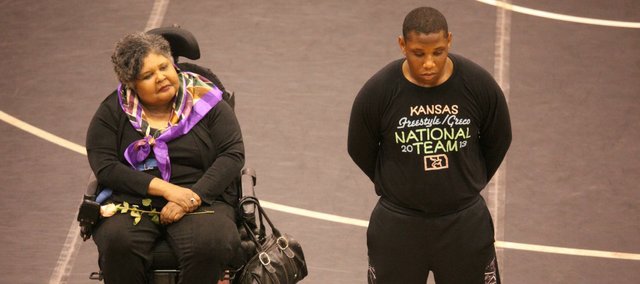 This is the second and final part on Johnathan Carter's story
Part one: Bonner Springs athlete takes unconventional path to wrestling's biggest stage
He needs his mother just as much as his mother needs him.
For as long as Bonner Springs senior Johnathan Carter can remember, he's always known his mother, Lorna Simms-Carter, to have Sjögren's syndrome.
Lorna, 55, was diagnosed with the disease 15 years ago when Johnathan was 3. It mimics multiple sclerosis, and caused Lorna to lose feeling in her legs. When she was diagnosed, she was working at Wesley Medical Center in Wichita with premature babies in newborn intensive care. She'd be at bedsides and she'd start feeling wobbly in the knees or she'd fall when she was walking.
The hospital told her she couldn't continue working.
"I ended up having chemotherapy multiple times," Lorna said. "Chemotherapy works in multiple ways. At that time, Johnathan's father and I had divorced, so I was a single parent when all this was happening."
Lorna said the split, which was a result of stress and the disease, was mutual but came at a difficult time.
Today, Lorna has a caretaker come in the mornings until noon every day except on Tuesdays and Thursday.
That's where Johnathan steps in and helps. He said it's been difficult at times.
"With her disease, it causes me to do different tasks to take care of her," Johnathan said. "I have to make sure she has food and water every morning. ... I help get her into the car. I put her into bed and help her get into her wheel chair. I take her to doctors appointments.
"I think it's seeing her in pain or seeing her struggle. My mom is a good person. I don't think she deserves any of this. I wouldn't wish this disease on anyone."
Lorna hasn't walked since 2012 and uses a mobility scooter to get around. When she's at home, she spends her time in the living room in bed watching TV or reading.
She has strength and feeling in her right left, but nothing in her left.
"He's a good caretaker," Lorna said. "He's been thrust into that roll, it's unfortunate that he did. One thing I can say is Johnathan rises to the occasion, and he has.
"He doesn't get upset or angry with me or complain about, 'Mom, why are you calling me?' 'I don't want to do this' or anything like that. He does what he feels like he needs to, to help me out. I'm very appreciative of that."
But that's Johnathan's personality. Wrestling coach Brandon Jobe and football coach Lucas Aslin both say he just works without saying anything.
"The things he's gone through, I can't say myself that I'd have the end result he does," Jobe said. "The kid is amazing. He balances a lot of things. He never ceases to amaze me. He keeps fighting back through things that 99.9 percent of the population would have gave up on a long time ago.
"Character is the biggest thing. Being somebody that can be relied on. Somebody that's going to be there. Be consistent. Somebody that can hold a job, and be there for their family, and be a good father and be a good husband; a good son. We talk about those things all the time. Johnathan has fantastic character."
Johnathan does it because he figures his mother has done a lot for him, so he doesn't see any reason why he shouldn't do a lot in return.
He started helping Lorna out when he was 8 or 9 years old, doing small things here and there like getting water, but the bigger responsibilities began when he was a teenager.
It means he's had to mature much quicker than most of his peers.
"My definition of a grown-up is if you care about somebody else and something else more than you do yourself," Aslin said. "He fits that mold. I've told some of our kids that."
"Some of you will be 30 and you're still not an adult," he told his wrestling team.
"I probably wasn't a grown-up until I was 26. Some of these guys are grown-ups when they're 16 years old because they cared more about something than they do themselves, and make that a priority.
"Usually people become an adult and grow up because they have kids or something like that. They have a job and have to make money. It's a rare treat. A lot of guys could have that situation, but they can't play sports or they can't do this or they can't do that. It's just an excuse, you can do what you want. But it's nice that they're taking care of their own first."
Aslin uses Johnathan as an example despite Johnathan not liking the attention.
He points out that Johnathan rarely misses practice, and if he does it's because he's helping Lorna out or because he's been on college visits. He said that's saying a lot because Johnathan has other obligations than just school and athletics.
"This guy has other things to do, he has other things that are bigger than football, and this sucker's here every day working," Aslin said to his team about Johnathan. "He's working hard and you're not here and you really don't have anything important to do."
"He makes it a priority. He makes what he has to do at home a priority. All that means to me is he cancels other stuff out that would waste his time. Nice to see that time management from a kid," Aslin said.
Johnathan even works part-time at Dairy Queen. Not because he wants money to spend when he goes out with friends, but to help Lorna out with the family finances.
He understands that it's not for him to spend foolishly, but to save.
"I wanted a job so I could help pay some bills. I don't pay it all the time, but in case my mom needs help, I'll pay electricity. Or if she needs some extra money for groceries, I'll help with that."
But Johnathan has as normal of a life as he possibly can, and Lorna makes sure that he does.
He likes spending times with his friends — Jesus Garcia, Devin Burke, Tevon Mason, Tristan Foster and Tyler Hernandez. They'll hang out at Johnathan's house and play video games or watch a movie, or they'll go to the Legends.
"This is my disease, this is not his disease," Lorna said. "I want to make sure he's able to go out with his friends. If they want to go to the movies or want to go out to eat, he'll come say, 'Mom, we want to get together tonight.' I want to make sure he has as much of a normal childhood as possible. I've always felt this is my disease and not his. He just got pushed into it inadvertently because of the fact it's just him and me."
Friends and family
But it's not just Lorna and Johnathan. They've had help along the way, whether it's Lorna's sister Karen Stevenson or family friend Louise Quarles, who Johnathan calls grandma.
Karen is at the house every week. She's at Johnathan's football games and wrestling matches. He's her only nephew. She takes Johnathan on college visits.
When Lorna was sick and in the hospital for eight months in 2012, Johnathan would stay with Louise, who lives right up the road.
Johnathan said she treats him like one of her own.
"I do for him whatever I need to do," Louise said. "I'm going to see about him. I may fuss him. He knows I have a rough voice. But that's part of being a grandma. I don't want to pretend with anybody. I'm going to be what I am."
But like Aslin and Jobe, Louise says Johnathan doesn't complain.
"With the circumstances he's gone through, most kids would probably have a problem, but he doesn't seem to have one," Louise said. "He does what he needs to do. I don't hear him complain. Never hear him complain about what he's going through. If he did, I don't know who he'd complain to. He didn't complain to me."
Johnathan has always had a grandma in his life. He was born and lived in Wichita for eight years before moving to Bonner Springs, where Lorna grew up.
In Wichita, Erma and Bill Collins were his grandparents, while his biological grandmother was in Bonner Springs.
"She was just my girlfriend's mother that ended up being our childcare provider," Lorna said of Erma. "When I was sick and having to go into the hospital or having the chemotherapy, Grandma took care of Johnathan and she was right there for Johnathan. She truly loved my baby. She was very important in Johnathan's life."
Erma passed away about five years ago.
Bill was the grandpa, and he was crazy about Johnathan, too. When Johnathan was a baby, he'd put him in his lap and watch baseball until Johnathan fell asleep.
Positive before the negative
Without a father-figure for most of Johnathan's life, Louise said, Lorna would bring positive men to meet her son.
"She always tried to put positive stuff before this boy, nothing negative," Louise said. "I think she's a great mom because of where she's at and still have control. This boy could be doing anything and everything, but he's not. You look at her and what she instilled in him, and he took some of her word and that's what he's living by."
Johnathan said Jobe is pretty close to a father figure.
"He does a lot for me," Johnathan said. "He's taken me out for lunches and has always invested a lot in me. He's always had a lot of confidence in me."
Lorna's faith is very important to her and she passed that along to Johnathan, too. She wanted Johnathan to know who God and how faith is central to her life.
She said despite the struggles, God is very real in her life.
"I was told when I got sick I would have three to five years to live," Lorna said." I've exceeded that. God's faithfulness has been immeasurable for me. I know that God is real and I've imparted that to Johnathan.
"We have gone through things and Johnathan has been able to see God being real for himself. That is major and that's what I wanted to do. That is my responsibility as a parent to raise him to know God for himself."
She hopes that Johnathan can pass those values on to his own children as he grows as an adult.
Lorna has never questioned her faith. She believes this is the plan God has for her.
"I truly believe, through this, God allowed me to raise my child," Lorna said. "I didn't have to compete with a job. Even though I didn't like the fact I got the cut in pay, and being on Social Security disability. I didn't like any of that. But it still allowed me to get my child off to school and to be home when he came home. I was able to raise my child; not anybody else. But I was. That was so important for me."
Her hero
It was New Year's Eve, just hours before 2010 became 2011, when Lorna and Johnathan were on their way home from Childen's Mercy Hospital.
Johnathan had a soar throat. At the time, Lorna was still able to drive and was in the middle lane heading west on Interstate 435.
Sparks started to shoot out from under the hood. Lorna pulled off to the shoulder and Johnathan had to act quickly before the car went up in flames.
He didn't know why, he says, but thought the car was going to explode and that he was going to die.
He jumped out of the car, ran around to get Lorna's walker out before helping her to a safe distance. But it didn't come with problems. Her door was stuck a little bit and Johnathan had to work to get the door open.
"I knew God was with me and I knew he wouldn't let anything happen to me or my mom," Johnathan said about staying calm during the moment. "That reassured me and helped me to stay calm."
Minutes later, the car was in engulfed flames. Lorna said she had never seen a car burn so fast.
Lorna and Johnathan were safe, but some of their belongings, including Lorna's purse, were in the car.
Once the fire was put out, she asked a fireman to go and look for her purse, which had $500 in cash.
The purse was burned, but the bag the money was in was not.
"He is my hero," Lorna said of Johnathan. "He didn't panic. He knew what he had to do. I'm thankful he didn't lose his wit. A lot of the time, being a freshman like that, they'd lose their wit, 'What do I do? What do I do? What do I do?' He didn't do any of that. He jumped into action. I'm thankful he didn't lose his wit."
Off to college
Johnathan has signed a grant-in-aid to play football at Independence Community College.
After qualifying and wrestling in the state tournament last month, he took to Twitter saying how he doesn't know how he can give up wrestling.
He'll attend for two years before going to a larger school.
If he were to play football, he'd like to receive a scholarship to a Division I school, Division II at the lowest. If not, he thinks he'll end up at Kansas University studying sports medicine.
"I want to be close to my mom," Johnathan said. "Because of her condition, I never know when something might happen. I want to stay in a range where I can come home whenever I need to. If I'm all the way in Alabama I can't travel all the way up here."
She doesn't want him too far away, because she wants to be able to get to him if anything were to happen. But she doesn't want to stop him if he were given a great opportunity. She wants him to be happy wherever he went.
Lorna knows that it'll be quiet around the house when Johnathan is gone, but hopes to talk with him frequently. They've talked about Skyping. She's not a big texter, but thinks by the end of summer she'll have learned and that it'll increase the chances of them staying in contact.
She's just trying to cherish the final months.
"It's just hard to believe it's here," Lorna said. "He's embarking on starting a life of his own and going off to college; it's just so hard to believe he's 18 and getting ready to graduate from high school. I'm excited for him."
Part one: Bonner Springs athlete takes unconventional path to wrestling's biggest stage