McClain wins 4A state golf title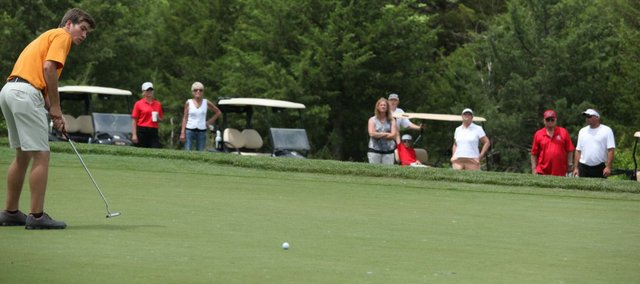 Mayetta — From the time Marc McClain teed off at 10:22 a.m. on Tuesday, to his final putt that rolled in at 5 p.m., the almost seven-hour round was worth it in the end.
McClain, who would have liked a quicker pace, fired at 3-under, 69 to win the individual title by three strokes at the 4A state golf meet at Firekeeper Golf Course.
Coach Steve Miller thought a 68 or 69 would win the tournament.
"He had the best week of practice he's ever had in the two year's I've coached him," Miller said. "He was loose mentally, he was striking the ball perfect, his putter was on fire all week. It really all came together."
From the time McClain went to bed Monday night until he stepped on the first tee, all he wanted to do was win. It's something he worked hard for and was determined to play well and succeed.
Even if that meant playing on only four hours of sleep in sunny, mid-80s weather.
"We were supposed to have two people to a room, and two other guys came in," McClain said. "The hotel was super hot — burning up. We had the air conditioning on and it wasn't helping. We all sat in bed talking; team bonding all night long. I don't know if it benefited or not, but it was my best round of the year."
McClain struck the ball well from all distances, especially around the green, where he chipped in twice for birdie — once on the par 5, fourth and then on the par 3, 13th.
He followed up his birdie on No. 4 with another one on the par 3, fifth. However, he dropped a shot after bogeying the par 5, sixth.
He went into the sixth thinking it was an easy birdie hole where he could be on the green in two and just tap in for an easy birdie.
He placed his drive in the fairway, but on his next shot, he topped it and the ball went right about 100 yards and into the rough.
McClain dropped another shot on the par 4, eighth after he hit is drive on the left side of the fairway ending in the rough. He, however, had a difficult look at the green because of a tree blocking the pin placement. He hit his second shot to the open part of the green, but hit it long and ended up in the rough about 20 yards from the hole.
He was unable to get up and down to save par because his third shot went past the hole.
McClain made the turn at even par, tied for second one stroke back of the leader.
He didn't make one mistake on the back nine, until No. 18.
"I'd say I'm a pretty lucky guy today," McClain said. "You can't go 4-under and then bogey the last hole to shoot 3-under on one side that's probably the toughest nine I've played. I hit some really good shots."
His luck began on the par 5, 11th when he rolled in a 15-foot putt for eagle to take him to 2-under.
Like No. 6, No. 11 was a definite birdie hole in his mind.
"Going into that hole, I was confident and hit a good drive and then it turned out into my favor," McClain said. "After the eagle, I had the confidence of wanting to maintain."
From there, it was about playing it safe, he said.
After he rolled in his putt he showed no emotion. No yell, no fist pump, nothing. He walked to the hole, bent over and picked up his ball acting like he's been there before.
He chipped in for birdie on No. 13 to move to 3-under and birdied the par 4, 15th to move to 4-under.
Miller, who bounced around the course watching his other five golfers, stuck with McClain for the final three holes.
He played without a glove on his right hand because he didn't have one in his bag. As the day progressed, the temperatures warmed up and his hands began to sweat more. Before every shot, McClain would wipe his hands down.
He thought he might have rushed some shots because of the the pace because he was waiting to hit unlike other rounds. When he was able to finally play the ball, he wouldn't go through his normal routine, but take a few practice swings and then strike the ball.
"I wanted to hit the shot and get it over with and not worry about messing another one up or losing the strokes I worked so hard for," McClain said.
McClain hit 71.4 percent of the fairways on Tuesday including all seven on the back nine. He hit 61.1 percent of greens in regulation, didn't go out of bounds or hit into a bunker all day. He putted 26 times compared to the 35 he hit in a practice round on Monday.
He was conservative on No. 17 and No. 18, both par fours. Instead of taking out his driver, he used an iron to give him more control. He could have made the green in one on No. 17 because it plays at 285 yards.
Miller can only talk with players between the green and the tee box between holes. They talked about upcoming shots and not previous ones.
"I usually try to make some joke or mild comment to make his mind light," Miller said.

On 18 he had his driver out, but then put it back in his bag. His second shot ended up short of the green and his third shot was the only bad shot since his duff on No. 6. He left his chip short of the green, but almost saved par by rolling in another chip.
"I came into this telling myself I would never tell a golfer what club to play, especially a real good golfer," Miller said. "I just asked him what his plan was."
The Braves finished seventh as a team with a combined score of 348. Jake Lain shot an 84, Caleb Malone shot a 93. Stevie Greer, Kyle Dumler and Nathan Hinton all shot in the triple digits with a 102, 108 and 127, respectively.