Edwardsville breast cancer survivor now proudly sports pink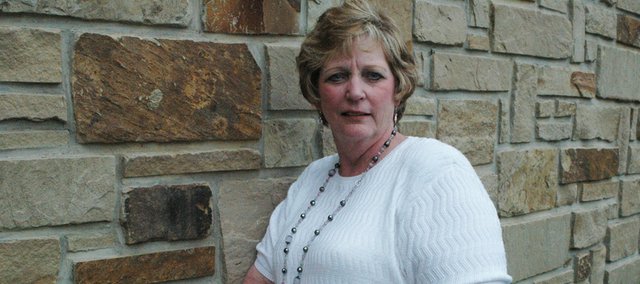 Pam Frazey says she had never been a "pink" person.
"I never wore pink. Ever," she says.
But for the last three years, no one has seen her without at least her pink bracelets on. Since her right-side mastectomy in May 2011, the Edwardsville resident is now, as she says, "a proud member of the pink sisterhood." And her pink is ramped up during the month of October, when she takes Breast Cancer Awareness Month very seriously.
"Every day I put something on my Facebook page about it," Frazey said. "I always start the month out saying 'Don't make me call you out; make sure you get it done. I'll start putting your name up here if you haven't had your mammogram.'"
It was because of her annual mammogram that Frazey caught her cancer early. She said her mother had a lumpectomy 50 years ago.
"So she was always very diligent about getting her mammograms and going to her OB-GYN, so it was something that I just kind of grew up with," Frazey said.
Still, she wasn't expecting to be called back for a second look in 2011, and then for a biopsy to confirm that she had about eight areas of cancerous cells in her right breast.
"I was totally blown away, and I said 'Really?'" she said.
Frazey said she soon decided that she didn't want to make her cancer scary; she wanted to use humor to keep things positive. She said it started out that way when the surgeon came in to give the biopsy results.
"He walked in the door, and he said 'Now before I say anything, you don't have to sell the farm,' which I thought was funny, because we live on a farm," she said.
Still, it took some time. The hospital sent Frazey a binder full of information about the disease and its treatment, and she at first set it on the dining room table and avoided it. But she soon got the courage to open it up.
"I would turn pages really slow because I was afraid that when I turned the page, I would see something that I didn't want to see or that I didn't want to read," she said. "It took a long time, and finally I got so that I thought, 'You know what, I have to face this. What am I going to do?' So I just made of joke of everything, no matter what it was."
Frazey said she was surprised, when considering her treatment options, that the doctor didn't give her a recommended set of treatments.
"There's no roadmap; there's all these choices you can make and no one would make those choices for you," she said.
She eventually decided to have a mastectomy and reconstructive surgery, which is a year-long process. Helping her through it was her humor —she made jokes about getting a flotation device installed, and her friends at work made her a pink stuffed animal, which she named Boo Bee Bunny, to take with her on her hospital visits.
"I learned that you should not only have as much fun with it as you can, but also, go to a support group, because you always think you are the only one that's there," she said.
Frazey said she didn't force herself to go to a support group until six months into her reconstructive surgery, and when it was her time to speak to the group, she immediately started crying.
"That's what you have to do — you have to find a way to let it out," Frazey said. "I was dealing with it through humor … but then I needed that support to let me know that there were other people (going through it)."
Frazey said she also went through a stage where she felt guilty because she didn't have to go through radiation or chemotherapy to be a cancer survivor.
"Then I felt like I wasn't worthy to be in that group," she said. "But the fact remains that you still had cancer, you still had a mastectomy, you still had to go through all that grieving process."
Frazey said she has found herself becoming a Breast Cancer Awareness advocate in many ways: forcing her sister-in-law, her niece and her eldest daughter to get mammograms, participating in Susan G. Komen Race for the Cure events, and offering to talk to others diagnosed with breast cancer.
"I have met several people that way — because somebody would call me and say 'You always talk to everybody; will you talk to her?'" she said.
Frazey said she would continue to do her part to fight for a cure and share her story and remind all women to get their mammograms.
"One in eight women is diagnosed with breast cancer," she said. "When you're in an office with 15 women, that can be two of them so easily."