The Power of
PRIDE

: Basehor group marks 20 years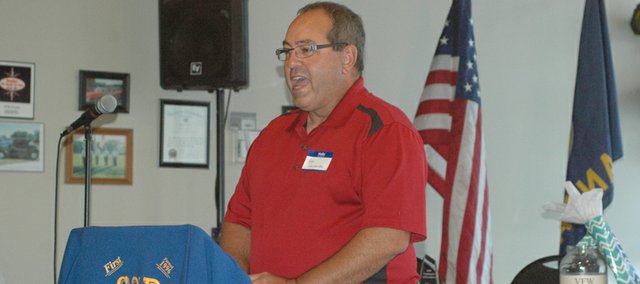 Bob Vervaecke remembers the lengths Basehor PRIDE went to in order to impress judges from Kansas PRIDE evaluating them as a Community of Excellence in 1995.
"We knew we'd had several hours of volunteer work to talk about, but we only had one hour to tell the judges about it," he said.
As a new organization formed the year before, they didn't know what the judges would expect, so they went a little overboard, arranging for police and fire vehicles to greet the judges as they entered the town and creating a video showing off Basehor.
It turns out that Basehor PRIDE raised the expectations for PRIDE groups trying to earn the excellence award, and Basehor PRIDE went on to win the award that year and for the next three years, as well as in 2000.
"We just blew the competition away in like-sized communities," Chuck Wilderson, the groups founder, recalls.
It's just one example of how, in the last 20 years, Basehor PRIDE members have proven to be overachievers in their efforts to live up to their motto: "Volunteers working for a better community."
The year 1994 must have been a very good one for Basehor. It was in that year that two other pillars of the community, Basehor-Linwood Assistance Services and Holy-Field Winery, also were founded. But Saturday was Basehor PRIDE's day to celebrate two decades and its role as an integral part of the community, as current and former members gathered at the Basehor VFW Building.
Most everyone knows Chuck "Mr. Basehor" Wilderson, who proudly fills the role of the "Face of PRIDE." Wilderson was the president of the Basehor Chamber of Commerce in 1994 when the decision was made to start a group dedicated to cleaning up the city.
"The main street in Basehor was a mess — a lot of trash up and down the street and weeds," Wilderson remembered.
So they formed a steering committee of local officials and created goals for beautification of the city. They decided to join the Kansas PRIDE program, which had been around for about 26 years. Currently, there are about 70 communities across the state that have a PRIDE organization.
Wilderson said the group started out cleaning up 155th Street, planting trees and flower beds and starting a "Yard of the Month" program. But it wasn't long before the group got enthusiastic with many more projects that are now staples of the community.
"Within two or three years, you could see a different attitude with people as far as keeping things clean," Wilderson said.
PRIDE's first major project the same year they were founded was an appreciation banquet for local Fairmount Township firefighters that included an award for the firefighter of the year. That program has continued every year since then and now includes the Sherman and Stranger township departments, as well.
In 1996, they created a Gold PRIDE group especially for seniors, which continues today, and in 1998, a Youth PRIDE group was founded, which has operated off and on over the years.
With the help of grant funds and funds donated from the community, they developed the Basehor Environmental Education Site in City Park.
They began a citywide clean-up day, and in 1995, they began coordinating the Fourth of July celebration, including the parade, fireworks show and Citizen of the Year award, which now, Wilderson notes, is probably the city's biggest annual event.
In 1997, they started a monthly program bringing in large recycling bins for residents to drop off recycling items.
In 2002, Gold PRIDE began to sponsor an annual luncheon for new USD 458 teachers, an activity that continues today. Both PRIDE and Gold PRIDE now give a $500 scholarship to a USD 458 student planning to attend a vocational or technical training school.
Their newest project has been the Basehor Community Garden, started three years ago. PRIDE partnered with the city's parks and recreation department, which could offer the necessary liability insurance, and created the now very popular garden in City Park.
"There's so much participation, there's a waiting list for people to be a part of it," Wilderson said.
While active PRIDE membership has gone from as many as 20 each in PRIDE, Gold PRIDE and Youth PRIDE, it also has waned to have as few as seven in the main PRIDE group. But the community garden has helped the group rebound, since each garden participant becomes a member, and Wilderson said he hopes the younger gardeners help give the group the vitality it had in its early days as the city continues to grow.
But most of the community seems to know how important PRIDE has become within Basehor; Fairmount Township Fire Chief Chuck Magaha noted the group's central role as he addressed attendees at Saturday's event.
"We have a lot of good things going for us, and it's because of the people sitting in this room," he said.