Braves soccer falters at Turner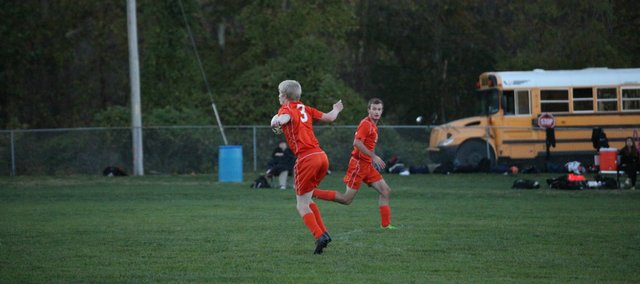 Kansas City, Kan. — Thursday night marks the end of the regular season for the Bonner Springs High soccer team, who lost 7-2 on Monday at Turner High
The Bears scored three goals in the first 20 minutes of the first half, and the next four goals came in the first 20 minutes of the second half.
Braves coach Mike Moulin didn't think his team played poorly, he thought their positioning wasn't the best though.
He said it's been like that all season, that his players watch the ball instead of marking their man.
"We're not marking who we need to make," Moulin said. "Instead of marking in the back, we're following the ball."
That leads to easy goals, which Turner had in spades.
When the Braves did attack, like on their two goals — the first from Rodrigo Fernandez Alvarado, and the second from Roman Glenn — they worked together.
But most of the night Bonner Springs was predictable. It tried going up the middle, instead of using its outside midfielders. It tried dribbling instead of passing the ball up. It tried attacking shorthanded. All of which Turner was able to defend easily and make a counter of their own.
It kept goalkeeper Nick Passinese busy.
"They're not a bad club if they learn to move together," Moulin said.
And that's true, like on their two goals.
But Moulin said it's been the struggle all year of needing to play quicker. All of them.
He'd like them to realize that the Braves aren't going to dominate physically. With a roster of eight freshman, he wants them to understand that to defeat an oversized team, they have to move the ball quicker.
"You have know what you're going to do with it before you get it," Moulin said.
He thinks the freshman class looks promising with players like Kaleb Hightower, Coleton Nelson and Passinese.
"I have some freshman on the JV team that can step up next year if they continue to do weights and get on a club team," Moulin said.
Playoffs begin next week, and this is a team that could give somebody a scare, but like Moulin said, they have to play as a unit.
"They need to learn to relax," Moulin said. "If you see your forward going up the middle, you need to sprint. Call for the ball. We don't communicate at all."
The Braves travel to Basehor-Linwood High tomorrow. Kickoff is scheduled for 6 p.m.