Doggone Good: Edwardsville dog training classes draw from all over metro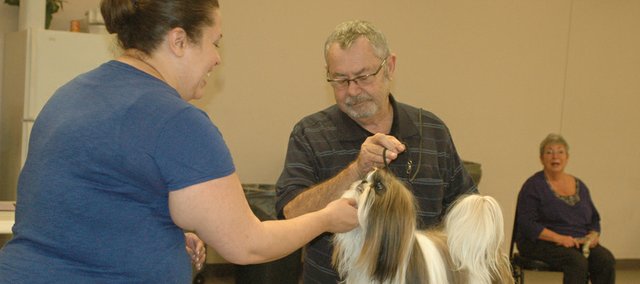 Cynthia Clark says she often brings her dogs with her to outdoor festivals or other public events, and people are amazed at how well the dogs behave in large crowds.
It's a big part, she says, of what brings people to the classes she offers Tuesday nights at the Edwardsville Community Center.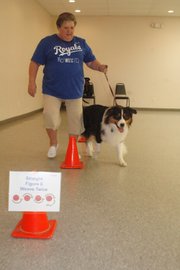 "People these days want a relationship with their dog, not just something to sit out in their back yard," Clark said. "Nothing impresses people more than a well-behaved dog … People want to do more with their dogs, and until they get some basic obedience and that relationship, they're not going to have a well-behaved dog."
Basic obedience isn't the only dog training offered on Tuesday nights from 7 to 9 p.m., however. Jane Blackerby and Summer Bond of Conformation Divas teach dog owners conformation, or how to competitively show their dogs based on breed. Through her Pawsitive Abilities Training classes, Clark also teaches rally and agility classes.
And the duo businesses have dogs and their owners coming in from all over the metropolitan area, from Basehor and Leavenworth to Shawnee and Overland Park.
"It's a little bit of everywhere; sometimes we get people from Lawrence," Blackerby said. "We even actually have someone that comes over from Grandview, Mo., because they like our classes."
Blackerby began showing her own dog when she bought a pure-bred pug from a breeder who made showing the dog a requirement of the purchase. After several years of showing her own dogs, she began teaching conformation classes in 2001.
Clark began showing her Australian shepherds in rally and agility in 1995 after years of showing horses, then also eventually began teaching obedience, rally and agility. Rally is a sport in which the dog and handler compete in a course of skills dogs must perform at the handler's command, and in agility, the handler directs the dog through an obstacle course.
Clark, who lives in the Piper area, also is now the project leader for Wyandotte County 4-H dog projects.
Blackerby and Clark met when they began teaching together in the Johnson County-based Sunflower Kennel Club about 10 years ago.
They decided to go out on their own, and after a short stint at a location in Shawnee, they found themselves in need of a space. They knew Michael Webb, Edwardsville city manager, because he competes in rally with his dogs and took some of their classes. Webb offered up the Edwardsville Community Center as a location.
They have been using the community center for nearly three years now, which they say has been both cost effective and a great central location for their clients.
They have continued to find success, too. Two of Blackerby's junior-level clients have had dogs receive championship or best-of-breed placements at the famous Westminster Kennel Club Dog Show. Clark's dogs have earned top rankings of versatility champion and supreme versatility champion in obedience, agility and rally.
So far, they have found their clients by word of mouth through the dog show circuit, and they get a boost at the beginning of each year.
"It seems like January, February, when people get puppies for Christmas, they get classes," Clark said.
She said for anyone interested in simply improving obedience, the number of classes depends on the dog and, more importantly, the owner. She said basic obedience may take just four weeks, but she said pet owners often opt to go longer.
"I have people who come in for basic obedience, and then they get hooked on maybe doing rally," Clark said. "I have a client who has been coming to me for the last six years, and she has no desire to compete, but this is just a weekly thing for her to come and do something with her dogs."
For more information about Blackerby and Clark's training classes, visit conformationdivas.com and pawsitiveabilitieskc.com.