Bonner Springs Rotary's Speakeasy event to benefit two organizations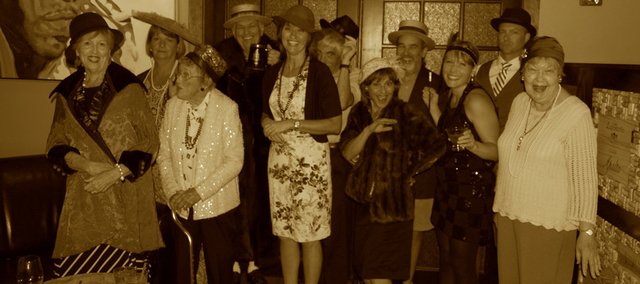 Some aspiring flappers could be the bee's knees in a couple months.
The Bonner Springs Rotary Club is sponsoring its inaugural Speakeasy fundraiser Nov. 1 at the Lake of the Forest Clubhouse.
The fundraiser will have a 1920s theme, as guests are encouraged to dress in that decade's fashion. There even will be a password to enter, much like the speakeasy establishments of the Prohibition era.
"I've never seen anything like this in Bonner Springs," said Nicole Gerken, event planner for Rotary. "I'm really excited to have this type of thing."
Gerken said Rotary members have been getting into the theme. They've done photo shoots and promotional videos wearing clothes replicating 1920s fashion. Gerken also has posted various tips for dress and more on the group's Facebook page, facebook.com/BonnerSpringsRotary.
The event will be 6-10 p.m. Nov. 1 at the Lake of the Forest Clubhouse, 100 Lake Forest.
Gambling will take place downstairs, while dancing and music entertainment will be upstairs. Gerken said a card game also would be upstairs so people who want stay upstairs could get a taste of the gambling.
Winnings will be in the form of raffle tickets.
"We're working to make our raffle items big-time prizes," Gerken said.
The fundraiser replaces Rotary's Christmastime auction it has done in the past to benefit Vaughn-Trent and the Allegro Choirs of Kansas City.
"Both are literally a block apart of each other on Oak Street," Gerken said.
Vaughn-Trent Community Services has provided emergency assistance to the Bonner Springs-Edwardsville community since it was founded in 1989. Allegro Choirs of Kansas City was established in 2000 and brings together children from the Kansas City metro area to perform in six different ensembles that perform in the Kansas City area and across the country.
Both organizations are looking forward to the fundraiser.
"We're really excited to be a part of the Bonner Springs Rotary's Speakeasy event," said Vaughn-Trent Director Debbie Lohmann. "It's a great way for us to raise awareness about our services, and hopefully reach more members of the community."
Allegro founder and artistic director Christy Elsner agreed.
"It is our hope that we transform the lives of children and youth by learning, sharing and performing beautiful music," Elsner said. "The funds raised from this Speakeasy event are to benefit every interested child so that they can experience the rewards of singing regardless of their economic background. We're excited to be a part of this."
The Allegro Brillante Choir and The Kicks Band will provide the musical entertainment, while Shari Augustine from Walter's Dance Center will give dance lessons.
A silent auction also will take place at the event, which costs $55 per person. That includes dinner, music, entertainment and two drink tickets. A cash bar also will be available. Tickets can be purchased by calling Marva at 913-441-2584 or going online at bonnerspringsrotary.org.
Sponsorship opportunities also are available for $150, $500 and $1,000.
Gerken said the silent auction and sponsorships are the areas in which Rotary will get the lion's share of proceeds for Vaughn-Trent and Allegro.
To donate silent auction items or become a sponsor, contact Gerken at 913-548-8875 or nicolepericagerken@gmaill.com.
Gerken said there are plenty of options for finding clothes that resemble 1920s fashion. In fact, she suggests the clothes serving two roles — Halloween costume Oct. 31 and Speakeasy attire the next day.
"It's fun," Gerken said. "I think everyone is having a good time with it."