Face to Face: Basehor minister Howie Lucas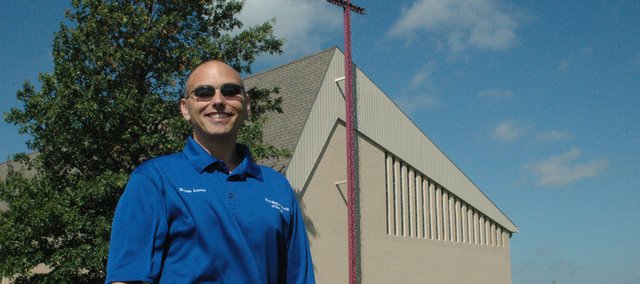 Name: Howie Lucas
Birthplace: Kansas City, Mo.
Family: Wife and five children
Occupation: Minister of youth and adults, First Baptist Church of Basehor
Dream job as a child: Serving in the military, specifically the Navy.
While his father briefly served as a Marine and his grandfather served in the Korean War, Lucas said he wasn't inspired by family history. Rather, he decided he'd like a life in the military after learning about it as a youth. After looking into it, he thought he'd like to go to the Nuclear Power Training Command, then in Florida, and eventually work on a submarine.
"I tried, but they said 'No,'" Lucas says. "I was too big; I weighed too much at that point."
Hobbies: Bike riding and running. Lucas said he and his wife run three miles every day, and cycling is something the whole family enjoys. Lucas once participated in Bike Across Kansas, the annual cross-state bicycle tour of Kansas.
Digging deeper: Lucas was an operations manager with a welding supply company, driving a hazardous materials truck and overseeing all of the department of transportation and Hazmat compliance. He worked 17 years with the same company.
Lucas began attending the First Baptist Church in late 2010 and quickly became deeply involved. By the following summer, he was leading the youth group.
"Over the next three years, I just felt the call more and more to full-time ministry work," he said.
So when the church decided to make his current position full-time and offered it to him, he jumped at the chance.
"I enjoyed my other job, but I felt called to here," he said.
Lucas plans to begin seminary school in January. In addition to leading the group of about 30 youths and the Wednesday evening Awana program, he has started a "Fifth Quarter Party," a gathering of youths that will follow Basehor-Linwood High School's home football games, and later this year, probably Friday basketball games, as well.
"We're reaching out to all the area middle and high schools and doing what we can to get involved in the community," he said. "I am definitely not trying to sit in my office and just wait for kids to show up."