Bonner, De Soto split softball doubleheader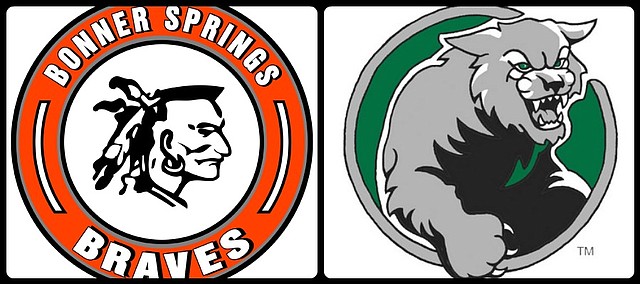 The Bonner Springs and De Soto softball teams split a doubleheader on Tuesday evening at Bonner Springs High School, with the Lady Wildcats winning the first game 6-0 and the Lady Braves taking the second game 6-5.
Kennedee Meier led the way for the Lady Braves in Game 1, collecting three of her team's six hits. Mikaela Bennett, Meagan Laughlin and Alexis Tendick also recorded hits for Bonner Springs. Meier also stole two bases, and Laughlin's hit was a double — the only extra-base knock of the contest for the Lady Braves.
Hannah Fehlhafer pitched 4 ⅓ innings for Bonner Springs, allowing seven hits and two runs, both earned. She struck out one batter and walked two. Annie Carpenter last 2 ⅔ innings, allowing six hits and four runs, all earned. She struck out two batters and walked three. De Soto scored its six runs on 13 total hits.
The Lady Braves had better luck in the second game, pulling out a victory after four lead changes. Bonner Springs only recorded seven hits, compared to 12 for De Soto, but the Lady Braves made them count.
Bennett led the charge for Bonner Springs, finishing 2-for-4 at the plate with a pair of runs batted in. Laughlin added an RBI double, and Caitlin Reed finished 2-for-4 with two runs scored. Katie Carpenter scored three runs, and sister Annie hit a double.
Fehlhafer went the distance in the circle, allowing 12 hits and five runs, all earned, in seven innings of work. She struck out two batters and walked two.
The Lady Braves will take on Piper in a doubleheader starting at 4 p.m. today at Piper High School.
---
Jon Poorman is the sports editor at The Chieftain. Follow him on Twitter at @JonPoorman for all of the latest community sports news.