Edwardsville candidates lay out road repair ideas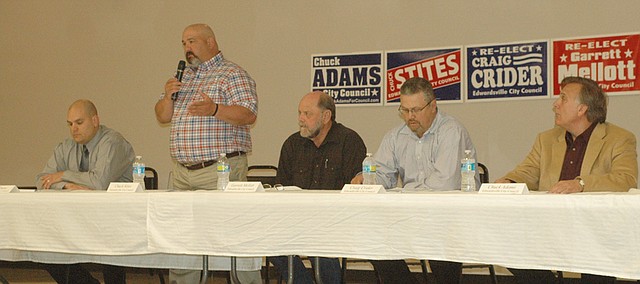 It's safe to say the condition of Edwardsville's streets is among the top concerns of the city's residents, and it was brought up repeatedly at last week's Edwardsville City Council candidate forum.
At the March 26 forum, hosted by the Bonner Springs-Edwardsville Chamber of Commerce, candidates were asked what they would like to do in regard to capital improvements such as roads, curbs and sidewalks.
Incumbent Garrett Mellott said he thought the city had done a good job of identifying the main problems with streets and has showed monetary responsibility by making repairs without raising property taxes. Now it was important to build up public works so the city could do more work in-house.
"We're beginning to buy pretty good equipment for that department, and I think that's going to save the city an awful lot of money that we used to subcontract out," he said.
Craig Crider, also an incumbent, said the city needed to focus on maintaining its existing infrastructure and needed to create a better plan for funding the repairs using its portion of casino revenue funds and the sales tax passed last year. He agreed that the city needed to build up public works to do more of the work in-house.
"We don't need to be getting a bid for someone to come and do that when we're going to be capable of doing it ourselves," Crider said.
Chuck Adams said infrastructure work was called capital improvements "because it takes a lot of capital to make the improvements," and the best streets right now were those the city was able to complete with outside grants: Edwardsville Drive, Woodend Road and soon, Kansas Avenue.
"We are presently looking at some creative financing ways to make major improvements, take big steps; instead of $150,000 or $200,000 at a time, being able to take a $1 million step and really make some major improvements," he said. "Sometimes you have to spend a lot to get the significant improvement."
Terrence Dunn said he would like to look into getting more grants to help take some of the cost off of the residents, and he'd like more of a focus on sidewalk improvements.
"I feel that getting a sidewalk going along Fourth Street and K-32 Highway would help out tremendously to keep our children safe and keep people in the retirement community safe," he said.
Stites said living on the city's north end, he knows how bad some of the roads in the less populated areas are.
"I don't think we have time to delay those repairs," he said. "If we don't take care of our roads right now, we aren't going to attract people to build houses."
He added that he would like to see improved sidewalks around Edwardsville Elementary School to allow children to safely walk to school.
The candidates also discussed what they thought their primary roles would be as a council member.
Stites said the primary responsibility of the council is to be good stewards of the taxpayers' money.
"I also would say to be a liaison between the constituents and the governing body is also important — that your voice is heard through the city council," he said.
Mellott agreed and said council members need to make sure no one is making decisions for personal gain.
"I think we need to worry about maintaining the positive growth and monetary responsibility of all the city departments, including the mayor and the city council," he said.
Crider said residents needed to feel comfortable contacting a council member with questions. He said council members needed to work hard to make road improvements, put in infrastructure to attract new development and support the city's public safety departments.
Adams likened the city to a ship, saying the city employees were the ship's engine, and the council was the ship's rutter.
"We guide that ship through those waters, so it's important that we have clear heads on developing policies for the future, which is our main job," he said. "Our job is not to manage the dinghies on the cruise ship; our job is to direct the cruise ship."
Dunn said council members should first and foremost work with the citizens and be an ambassador for the city.
"I want to hear from the citizens some ideas on how to make the city better … take care of those issues responsibly; I don't want the citizens to be a blank check for overspending," he said.