Bonner 4-H Club donates money, food to Vaughn-Trent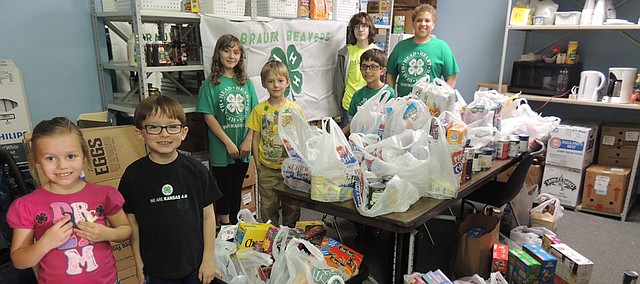 The Brauer Beavers 4-H Club from Bonner Springs helped raise $150 cash donations and 325 pounds of food donations for Vaughn-Trent Community Services March 29 at Price Chopper in Bonner Springs.
Club members were able to fill three shopping carts piled high full of food donations, and club leaders said they heard amazing stories about how Vaughn-Trent, a social services agency and food pantry, has helped in the community.
Club members who participated in the effort were: Kamren Brown; Charlotte Dykes; Lauren, Christina and Ethan Edwards; Justin and Braden Korgol; Annalee, Danny and Hazelbell Morche; Jarod Mortensen; and Kameron Zimmerly.
For more information about the Brauer Beavers Club, contact Becky Korgol at 913-522-4850.