Face to Face: retreat director Dave Mareske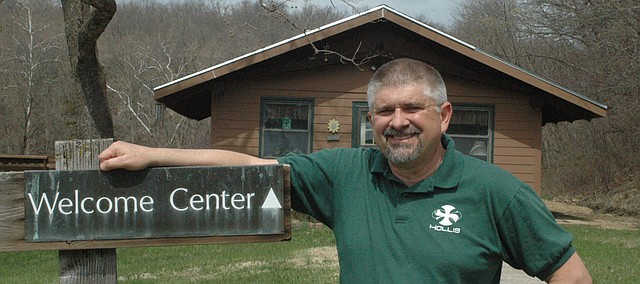 Name: Dave Mareske
Birthplace: Dubuque, Iowa
Family: Wife, Taren; sons Griffin and Barak
Occupation: executive director, Hollis Renewal Center, a Christian-run retreat intended for spiritual growth and renewal.
Dream job as a child: Mareske said he loved camping, so he has always known he wanted to do something that would let him work outdoors.
Then when he finished school, he hoped to work in an outdoor ministry.
"So for a long time this has been my dream job," he said. "Living the dream."
Hobbies: Reading, exercising and playing history-based games and board games that allow him to simulate a battle.
"Sort of like Stratego, but harder," Mareske said.
Digging deeper: Mareske has been busy since joining the Hollis Renewal Center in 2001, helping improve the 153-acre retreat. Over the last few years, the center has completed its trail expansion project, and the now more than 5 miles of trails are open to the public. The center also repaved its main road last year.
This spring, the center plans to build a deck in front of its lodge and add heating and cooling to the lodge's enclosed porch. The center's other buildings also will receive some renovations.
Guests seem to be enjoying the improvements, if rentals of the center's facilities are any indication.
"We have not had a free weekend — all of our weekends have been booked for the last four years, easy," Mareske said.
He said word of mouth and those who use the center — whether for a group retreat, birthday party or church or family event — are its best advertising, and the center is maintaining its goal to be affordable.
"Hospitality is our benchmark, something we work very hard at," Mareske said. "So being open to everyone that wants to use us, whether it's for a religious reason or not, we believe that when they're here, our guests help take care of this place, as well."
The next public event at the center will be the Taste of Hollis wine and beer tasting fundraiser from 4 to 6 p.m. May 30. For more information, reach Mareske at 913-206-4947.