Bonner-based interior designer loves to reshape spaces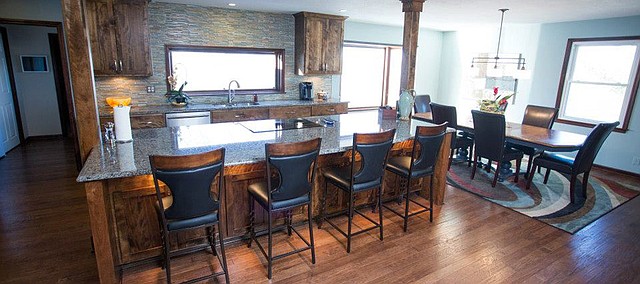 Julie Baker says she loves to make a space both beautiful and useful for a homeowner.
"I truly believe in function over form," says Baker, a Bonner Springs resident and interior designer. "I start with function because if it doesn't function, it doesn't matter how good it looks, you're not going to be happy with it."
She seems to be doing something right since starting her home-based business, Shaping Your Space, about five years ago. She now works with clients all over the metro area, and sometimes even farther away — she is currently working with a client in Florida — with her business growing entirely by word of mouth.
"I've probably done a couple hundred kitchen remodels at this point," she says. "Every day I get a phone call saying 'Oh, you helped my friend with their kitchen a few years ago.'"
Baker said her inspiration is based on her clients' tastes.
"It just starts with questioning, we kind of walk through what your needs and wants are … and I try to take an inventory visually of who you are and the things that matter to you and what you love," she said.
And while she largely helps with kitchen and bathroom remodels, Baker said she also loves it when a client has a room they don't have a good use for. She has taken a spare room and made it into everything from a book-lover's library or a "boudoir" closet.
"It's really fun helping people make their homes more homey, more livable for them," she said.
Shaping Your Space is a second career for Baker, who started out on the East Coast, working for an antiques dealer. She said she would go to big auctions to buy and sell hundreds of antiques every week, and soon she had clients asking her to help pick out a paint color for their new piece.
"In my early 30s, I needed to make a career change and decided, 'What would I do, if I could do anything everyday; if I could just wake up and do what ever I wanted, what would it be?'" she said. "And design is just something I have always been drawn toward."
She went back to school to earn a degree in design and then worked for a company for a few years that sold countertops and flooring, meeting contractors and connecting with clients all the while. She left that job to run her own business about five years ago, shortly before moving to Lake of the Forest.
While numerous online resources and television shows aim to help "do-it-yourselfers," Baker says she hasn't found it has hurt her business. Pinterest and HGTV usually serve to give her clients ideas and a direction that she can improve upon, ensuring those ideas are used in a way that is still functional.
"I get to come in and figure out how to incorporate it," she said. "It really does make my job easier … I love Pinterest. People are always showing me the coolest ideas on Pinterest."
Baker said she gets a thrill from working in older homes that might not meet modern needs.
"I like the old project and the challenges that come along with that," she said. "There are so many cookie-cutter houses now it's really fun to be in a house that's not the same old floor plan. Really there's a lot more possibilities with an old house because you can totally change rooms and take walls down."
Baker can be contacted at shapingyourspace.com.