Adult students find success with Bonner-based diploma completion program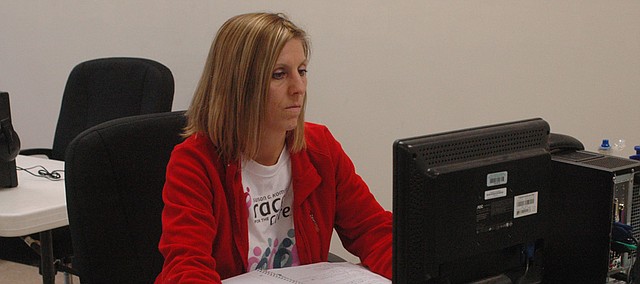 Zach Purdue makes no bones about why he wasn't able to graduate from high school.
"A bad attitude and authority problems," the Bonner Springs resident said.
So Purdue dropped out in his junior year. Now 23, he has been taking courses to complete his diploma at the Kaw Valley Learning Center for the past two months. He said that while he was reluctant to return to a school setting, it was time.
"I've got three kids, so there comes a point in your life where you've got to stop worrying only about yourself," he said.
And he says with the learning center, he has found a program that fits his needs exactly.
Since opening in August, the learning center, 11653 Kaw Drive, has enrolled 45 adult students looking to complete their high school diploma. The program offers free courses, operated by Greenbush Community Learning Centers under the authority of Bonner Springs-Edwardsville USD 204 in conjunction with the Piper school district.
Students perform their work online at one of several computer stations, at their own pace, with a mix of reading, video tutorials, quizzes, tests and writing papers. Michelle Land is the coordinator of the learning center and serves as the "teacher," helping the students along.
As she worked with a new student last week, Land told the student if the lesson or program is frustrating them, if they feel they just don't understand, "just let me know, and we'll find another way," she said.
"We try to keep the frustration level low, though we try to push them as much as we can to finish," Land said.
Participants must be at least 18 or older, and their class has to have graduated without them. They don't have to have originally attended a local high school or be a resident of the Bonner or Piper school districts. They don't even have to bring in their previous high school transcript; once they enroll, Land will contact their former school and request a transcript on the student's behalf.
Those who complete the program will get a diploma through either Bonner Springs or Piper high school.
The setting was perfect for Teri Richert, a learning center student almost since the day the center opened.
Richert attended high school through the last day of her senior year in Kansas City, Kan., but a dispute with a teacher left her just a couple of credits shy of receiving her diploma.
While at first she and her parents contested that decision with the school district, they dropped the fight after a time. Richert got married soon after and had four children, so she says "life kind of got in the way for a while."
"It was in the back of my mind to do it, and I knew I needed to do it, but it didn't seem as important," she said.
Now an Edwardsville resident, Richert says she was tired of jobs being harder to get without a diploma, as well as no ability to go to college without one, and she wanted to get on with her life.
"I could easily use the excuse, 'I'm too old,' but I just don't believe that's a good excuse," she said. "And I wanted to show my kids that you need to finish everything you start."
Richert said she formerly tried a GED program at a community college, but she found it didn't work for her.
"I tell you, when you get shoved in there… the pace was too heavy; it was hard," she said.
With the learning center, Richert said she likes the one-on-one time with the teacher and the more relaxed pace.
"The way it was geared, it's more like just going back and picking up what you needed — it was so much better," she said. "When you've been out of school for almost 30 years, this made it a lot more comfortable."
Purdue agreed, saying he hopes to be able to complete his diploma sooner rather than later with this system.
"This is definitely not what I thought it was going to be," he said. "I was always kind of discouraged, because with the online things, you have to have so much upkeep and keep yourself on target. But I can just come in here, and it's nice to have a teacher that I can socialize with. She can keep that fire lit under me."
The learning center can be reached at 913-422-6656 or michelle.land@greenbush.org.