Fascinating fasteners: Bonner woman shares button hobby through 'traveling museum'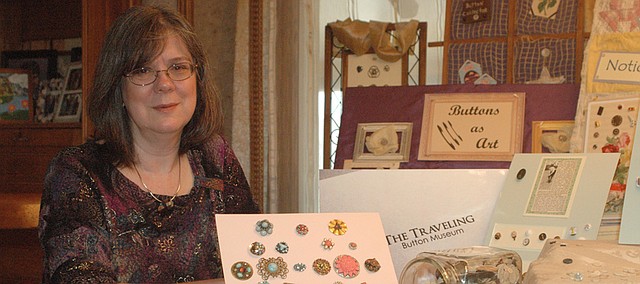 Lise McIntyre admits that when she first learned that there was such a thing as a button club almost 25 years ago, she thought it was weird.
"I literally thought, 'What? I've never heard of such a thing. What do those people do? Do they look at buttons all day?'" she said.
Now, however, as a collector of more than 20 years, she has become fascinated by the history of buttons and their place in society.
"It's been an amazing hobby for me," she said. "I've learned a lot; it's stirred my creative energy, it's stimulated my intellectual curiosity, it's taken me places I never thought I would go. And that's what a good hobby does."
And since moving to the Lake of the Forest neighborhood in Bonner Springs about a year and a half ago, she has taken the hobby to a new level, creating The Traveling Button Museum. Using buttons from her own collection, McIntyre has created placards to display the buttons in various groupings that she can bring along with her to present for groups, from the Lace Makers Guild to Depression Glass Collectors.
"They can be historical, they can make a social commentary; of course they're tied into the fashion world, because they were made to be worn on clothes," McIntyre said. "… That's what I wanted to bring to people, that they're more than just 'shirt buttons.' Invariably when I am giving a presentation, I hear at least one person go 'Oh,' and I know that when I hear that gasp, I know that they are seeing them for the first time."
McIntyre was introduced to the world of buttons when she and her family were living in Iowa. She enjoyed finding treasures at yard sales in nearby Des Moines, which is where she found her first buttons.
"Underneath this table, there was a big tall tin … and the top of it said 'Buttons, $3,' and I didn't even open the lid," she said. "I grabbed it and I was going to sell it for a million dollars."
But when she got them home and spread them out on a table, she found them interesting. She invited two different neighbors to come look at them over the next few months, and both mentioned that there was a button club in the area.
Despite her initial apprehension, she tracked down the founder of the club, who pulled out buttons mounted to cards, enough to fill all of the tables and chairs in the room.
"I had never seen such beautiful things; they looked like jewelry," McIntyre said. "I was stunned. So I started going to the button club, and the women there mentored me, and encouraged me, and taught me. I started to slowly move into it, and discovered that it was really just right for me."
McIntyre learned all about the button-collecting world: clubs, shows, dealers and the Button Journal published by the National Button Society, which was founded in the late 1930s as a Depression-era hobby.
McIntyre kept up the hobby when her family moved to Florida for 12 years, and she began presenting programs and was published in national and state affiliated button journals. When her family decided to return to the Midwest with a move to the Kansas City area, McIntyre briefly entertained purchasing a Victorian house for sale in the area to create a button museum. But she eventually admitted that plan wasn't financially viable.
"Finally, I just had to say, OK, it's got to take a different form," she said. "I'm pleased with this; I think it gets something across to people."
She has been steadily creating boards to display buttons, grouped by shapes, materials and use. She used photos of family members in the armed services to go along with military buttons, and a doll quilt from her childhood, sewed by her grandmother, to create her newest board, dedicated to buttons used in quilting or depicting sewing tools.
She says she offers a brief history of buttons, describing how they were mainly used on men's jackets through the 18th century and then became more affordable and popular in the late 1800s with the rise of the middle class. She can alter her presentation for the group viewing the exhibit to focus more on certain types or uses.
"I'm not an expert in any one of those areas; I'm kind of a generalist," McIntyre said. "I couldn't do any of this without being tapped into a local club, a state club and the national society."
McIntyre uses buttons from her own collection, which cover a broad spectrum because she never really focused on one area as a collector. Her oldest buttons are from the 18th century, and she said those pretty much hit her limit on cost.
"I like having a variety," she said. "A 25-cent button excites me just as much as a $25 button."
The Kansas City Star recently ran an article about McIntyre's museum that other publications picked up, so she finds herself adding more and more museum presentations to her schedule.
"I'm not out there pushing it, I'm letting them come to me, and I'm already booked up," she said.
Learn more about McIntyre's museum at travelingbuttonmuseum.com.