Bonner's 9th annual Marble Day debuts mascot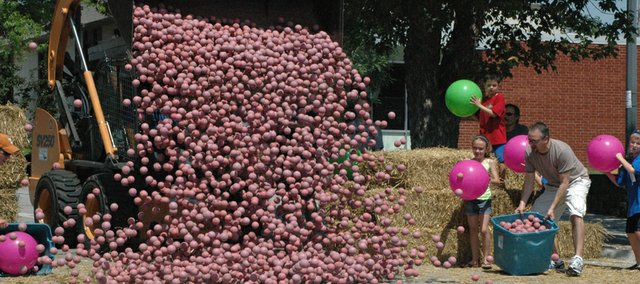 Marble Day is nearly 10 years old, but for the first time this year, it will have an official mascot.
The Pinky Ball mascot, perhaps to be named "Mr. Pinky," will make his debut Saturday at the ninth annual event, created by Downtown Bonner business Sunflower Embroidery.
"I don't know where he's been all these years," joked Laura Burch, member of the Marble Day Committee.
Marble Day will run from 9:30 a.m. to 2 p.m. in the downtown Bonner Springs area. With the help of new co-organizers the Bonner Springs Arts Alliance, all of the Marble Day favorites will return with a few small new activities to spice things up.
Ag Hall Tractor Cruise
The National Agricultural Center and Hall of Fame's Tractor Cruise starts lining up at 7 a.m. Saturday at the Ag Hall, 630 N. 126th St. At 8 a.m., the cruise will have a ceremony in which the Ag Hall accepts a donation from Walmart and a dedication of the Eagle Scout project that installed bricks at the National Farmer's Memorial.
The Cruise will then head to Bonner Springs, where the tractors will lead the Marble Day Wacky Parade. They will then move through a 35-mile loop that includes a stop at the Basehor Orschln's from 1 to 1:30 p.m. and at Cabela's Legends from 2:45 to 3:45 p.m.
The event kicks off with the Wacky Parade, and with good weather in the forecast, Burch encouraged attendees to dress in their wackiest outfits to take part in the parade. Once again this year, the National Agricultural Center and Hall of Fame's Tractor Cruise will lead the Wacky Parade as part of its cruise through Wyandotte and Leavenworth counties, and other parade participants will line up in the parking lot of the McDanield Building.
An opening ceremony will take place at 10:15 a.m. at Centennial Park, and at 10:30, games and activities, including the Marble Tournament and the Bike Rodeo, will begin in the park and on Oak Street.
Burch said attendees might notice an increase in games this year with at least 20. A new Corn Diggin' game will allow small children to dig through corn for a prize, and Zucchini Races will allow children to decorate the vegetable and then place it on a small wagon to race it down a track.
Another new activity will be storytelling with Dramateers Storytelling and Improv in Centennial Park.
In the BSAA's tent, the papier-mache marble will make a return for additional decoration from the community. Burch said the alliance also created a photo op board and will offer a craft activity in which children can create a clay snail with a marble shell.
The Bike Rodeo, organized by Bonner Springs United Methodist Church, once again will offer free bicycle helmets while supplies last in addition to a bike skills course, bike tune-ups and giveaways in the Centennial Park parking lot.
The Marble Tournament is open to ages 15 and under. The Marble Art & Invention Competition is open to all age levels, and paper will be provided for children who would like to create an art entry onsite before the 11 a.m. deadline. Prizes will be awarded in both competitions.
And then there is the infamous Pinky Ball Run, beginning at noon. Five thousand Pinky balls will be dumped at the top of Oak Street to bounce and roll their way past a series of obstacles to the finish line.
This year the Pinky Ball Brigade, armed with brooms, will be in charge of ensuring all of the balls make it to the bottom of the street.
Tickets to purchase a ball number for $2 will be sold prior to the event. The top 10 pinky balls will receive a prize, with a top prize of $100. A portion of the proceeds will be donated to the Bonner Springs Arts Alliance.
For more information, visit marbleday.com.