Kansas City Connection: Where comics, movies and
TV

shows come to life
The other night, I had a dream that I was in a giant exhibition hall hanging out with hundreds of people in costume as well as celebrities like Pam Grier ("Coffy," "Foxy Brown"), Sean Astin ("Rudy," "Lord of the Rings"), Butch Patrick (Eddie from "The Munsters"), "Nalini Krishnan," ("Star Wars: Episode II") and Billy Mitchell ("The King of Kong: A Fistful of Quarters").
Surrounding me were dozens of display booths and merch tables selling original artwork, comic books, costumes, lightsaber replicas, action figures and Magic: The Gathering cards. It was pretty overwhelming.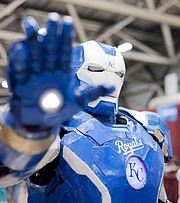 If this sounds like an exciting scenario, you'll be pleased to know that this was, in fact, no dream — it's a description of what you're likely to find at the first-ever Kansas City Comic Con scheduled for this weekend at Bartle Hall at 301 W. 13th St. in downtown Kansas City.
In addition to vendors, artists' booths and celebrity guests (only a few of whom are mentioned above), KCCC will include costume contests, gaming events, live art events, autograph signings and panel discussions ranging from "Cosplay 101" to a chat with the creators of "Star Wars" comics.
The event takes place from 1 to 7 p.m. Friday, 10 a.m. to 7 p.m. Saturday, and 10 a.m. to 5 p.m. Sunday. Tickets are $60 for a weekend pass or $25 to $35 per day at Ticketmaster outlets or at the door. For a full schedule of events, visit kansascity-comiccon.com.
National Museum of Toys and Miniatures
While everything about Comic Con is done on a grand scale, one of Kansas City's signature museums offers visitors a chance to view the world in miniature.
The National Museum of Toys and Miniatures reopened Aug. 1 following a yearlong, $8 million renovation. What began in 1982 as a 7,000-square-foot space just off the UMKC campus has expanded to a 33,000-square-foot national museum with the world's largest fine-scale miniature collection.
Two special exhibits will kick off the museum's reopening. "Pedal to the Metal," open through Aug. 28, presents a range of pedaled playthings, while "Messengers of Goodwill," open through Jan. 3, tells the story of the friendship dolls sent between Japan and the U.S. during the 1920s. Meanwhile, the museum's permanent collection offers a fascinating look at the history of children's playthings throughout the decades.
The museum is located at 5235 Oak St. and is open every day but Tuesday from 10 a.m. to 4 p.m. Admission is $5 for individuals ages 5 and over. For more information, visit toyandminiaturemuseum.org.
Glacé Artisan Ice Cream
While you're in the neighborhood, drop over to Glacé Artisan Ice Cream for the city's most unique and delicious ice cream pairings.
With flavors designed by distinguished chocolatier Christopher Elbow, you'll find offerings here you wouldn't see anywhere else. Recent favorites include P.T.'s coffee & lemon curd, goat cheese and roasted beets, sour cream and brown sugar, and raspberry buttermilk.
Glacé is open seven days a week, and is located south of the Country Club Plaza at 4960 Main St. as well as in Kansas at 4535 W. 119th St., near the Apple Store at 119th and Roe.
Events at Starlight
On Monday, comedian Jim Gaffigan returns to Kansas City for a stand-up performance at Starlight Theatre as part of his 30-city "Contagious" tour.
Doors open at 7 p.m. and the show begins an hour later. Tickets start at $46 at kcstarlight.com.
Also at Starlight this week is jam band Phish. Guitarist Trey Anastasio is fresh off a stint playing five dates with the original members of the Grateful Dead, in which he performed admirably, and a summer tour with his group of 30 years should be just the thing to fire up the phaithful. Tickets are $65 at kcstarlight.com.
First Fridays
This Friday is also the monthly First Fridays art walk in the Crossroads neighborhood.
If you aren't sure where to start, I recommend heading to the neighborhood relatively early (between 6 and 7 p.m.), parking somewhere in the vicinity of Southwest Boulevard and Main Street (or around 19th St. somewhere east of Grand) and hitting up some of the larger galleries like Leedy-Voulkos Art Center (2012 Baltimore Ave.), The Sharon Leedy Gallery (right next door), Kemper at the Crossroads (33 W. 19th St.) and the Belger Arts Center (2100 Walnut St.).
You'll find plenty of smaller galleries, food trucks, fire-breathers, etc. along the way.
— Lucas Wetzel is a writer and editor from Kansas City, Mo. Know of an upcoming event in Kansas City you'd like to see featured in Kansas City Connection? Email us about it at kcconnection@ljworld.com.