Basehor library storyteller known for theatrics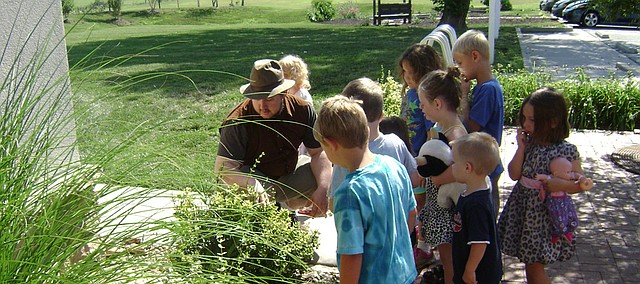 When Patrick Peterson graduated from St. Mary College in Leavenworth in 2012 with degrees in English and Theater, he had no idea that his career path would literally lead right down the road to the Basehor Community Library and a part-time job that he loves.
With his ultimate career goal of becoming the voice of a cartoon character, Peterson gets plenty of practice at children's storytime, where he entertains children with great stories three days a week.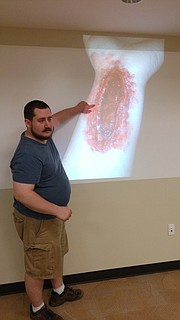 "The kids give me immediate feedback about whether they like the voices I use or not," he said. "It's truly the ultimate performance. Kids aren't restricted by the social norms of our society and don't feel they have to be polite if they don't love the voices I'm using. They definitely let me know!"
Peterson began working as a children's storyteller at the Basehor library in December 2013. The job seemed to dovetail perfectly with another one of his part-time jobs: being the voice talent of audio books. He set up a recording studio in his home to create the recordings. Book recordings can take anywhere between 20 minutes for a children's book to 16 hours for a novel. The feedback he receives from the children during storytime helps Peterson hone the voices he uses for his audio books.
Parents love his storytime as well. Programs currently are offered on Tuesdays with stories aimed at babies to toddlers of 2 years old, while Wednesdays focus on stories that appeal to children aged 2-3. The Thursday program offers stories for children aged 3-5.
Peterson enjoys incorporating juggling and even magic into the stories to add excitement. The stories begin at 10 a.m.; a complete schedule can be found at basehorlibrary.org.
"I like to feel like I am molding minds," Peterson said. "Moms like that I'm a guy working in a library. It sets a good role model example for their children. They see that going to the library is fun."
Peterson also hosts special events at the library. Earlier this summer, he led a storyboarding class for teens focused on filmmaking, whereby they worked together to draw scenes of a movie they were putting together. This past week, he taught another class to teach teens interested in learning to apply theatrical make-up to create bruises, scars and gashes.
Later this fall, he will host a more in-depth class to focus on advanced theatrical make-up application in conjunction with the Basehor Haunted Trail. Last year, Peterson dressed as the Grinch and performed "How the Grinch Stole Christmas" as a one-man act, memorizing the entire story and performing it in costume.
"I love the idea of storytime, and I have been lucky enough to use both of my college degrees," Peterson said. "My work here at the Basehor Community Library is the perfect combination of the two."
As much as he enjoys his job at the library, Peterson said he also strives to get even more involved in the Kansas City theater scene. This summer, he served as a park manager intern at the Heart of America Shakespeare in the Park, and he also has worked at Bonner Springs's Third Street Asylum haunted house in the fall.