Bonner Springs football primed for big season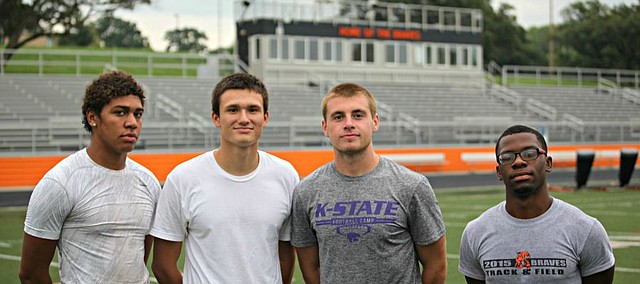 Bonner Springs quarterback Connor Byers was asked a simple question after an early-morning conditioning session on Wednesday at David Jaynes Stadium: "What's been the key for you guys throughout the offseason?"
His answer was simple as well. "E and E," he said. "Effort and energy."
Byers and the rest of his teammates will soon be embarking on the 2015 season after finishing last year with a 7-3 overall record and a 5-1 mark in Kaw Valley League play. The Braves saw their campaign come to an end with a 23-15 loss to St. Thomas Aquinas in the Class 5A regional playoffs.
Coach Lucas Aslin is entering his fifth season at the helm with a 22-16 record.
"Last year we got to playoffs, but we couldn't pull it out," said Byers, one of seven returning starters on offense. "That adds extra motivation. Us seniors don't want to go out on a loss. I think we have good leadership and a great atmosphere around here. Everybody is buying into what the coaches are trying to sell to us."
Byers, a senior, will lead a talented group of returning skill players on offense. At 6-foot and 185 pounds, he's a dual-threat signal caller who racked up more than 2,600 total yards and 28 touchdowns as a junior. The Braves were quite formidable on offense last season, averaging 29.4 points per game.
Byers will be joined in the backfield by speedy senior tailback Marcell Holmes, who was a First Team All-Kaw Valley selection after rushing for 900 yards and 12 touchdowns last season. He also posted 266 receiving yards and four touchdown catches, proving his versatility.
"We're fast and efficient this year, and I think we're going to run by a lot of teams," Holmes said. "I feel like we have a more physical offensive line than we had last year, and guys are moving faster, so I think we're going to be really nasty up front. We also have a quarterback that can run, so we can do a bunch of things — options, screens, things like that."
Byers' top option in the passing game is senior Michael Amayo, who caught 25 passes for 448 yards and four scores in 2015. He also mentioned 6-foot-3 Aaron McGee, one of the school's top basketball players, and Hayden Hoffine as dangerous weapons at receiver.
"I like that we can do so many things out of different formations," Amayo said. "We can run the same plays and still set up differently so the other teams don't know what we're doing. We can spread the field, we can run the ball — the opportunities are endless with us."
Bonner Springs also returns seven starters on the defensive side of the ball, including Josh Adams, Jacob Freese and Andrew Bryant in the trenches. The Braves also bring back their leading tackler, junior linebacker Charlie Gray, who posted 62 stops and three forced fumbles last year.
"We attack a lot, and we blitz a ton," Aslin said. "We're more of a 3-4, three-man front scheme, and we'll bring the pressure. We bring a lot of different coverages on people, and we try to make it simple. We want to force the issue with guys, play in your face and try to make you make mistakes."
---
Jon Poorman is the sports editor at The Chieftain. Follow him on Twitter at @JonPoorman for all of the latest community sports news.