Seniors get ready for 25th spaghetti dinner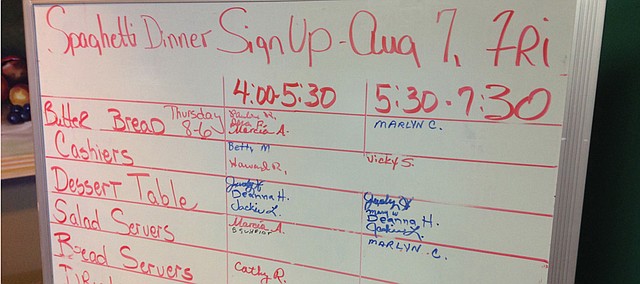 Marilyn Clements entered the Bonner Springs Senior Center Monday ready to do her part for this year's "All-You-Can-Eat" Spaghetti Dinner on Friday.
"Where do you need help?" she asked Gloria Ochoa, senior center director. "I'm willing to help, I just don't know where you need it."
Now in its 25th year, the meal was founded by former senior center director the late Nancy Jones-Johnson to fund "Seniors Helping Seniors" scholarships for graduating Bonner Springs High School Seniors. The senior center members love the enthusiasm from volunteers like Clements, but they could use some more of it to help them reach their goals. While some new members are helping out this year, more help — and some "new blood" at the senior center — are needed to keep the dinner going another 25 years.
"It may come a time when we don't have enough seniors to help the seniors," said Cathy Ramirez, who has been helping with the spaghetti dinner since 1998.
In the last few years, with the help of Jones-Johnson's children, the spaghetti dinner has seen some growth, at least when it comes to funds raised. The two scholarships awarded to BSHS seniors last year were $1,000 each, and Ochoa said Jones-Johnson's children, who help provide all of the supplies for the dinner, hope to see the scholarship amounts increased.
Raising enough money to support the Bonner Springs Senior Citizen's Nancy Jones-Johnson Scholarship Fund and award scholarships at that level isn't the hardest part because after 25 years, the community does a good job of turning out to support the dinner. But organizing and running the dinner is getting more challenging as the core group of volunteers, those who have been senior center members for 10 years or more, ages.
Bart Betzen, Jones-Johnson's fiancé, has come back to Bonner Springs every year since her death to help cook the noodles for the dinner.
"There's a lot of effort behind the scenes, the planning and everything, and what I've seen with it is the seniors that get involved, as they get older it's more challenging and more work than it has been 20 years ago," he said. "But everybody does what they are able to do to help out. They may not want to commit, but it all comes together."
The need likely would lesson if more seniors in the community took part in the senior center, which is open to seniors age 55 and up.
And the senior center has gotten a few new members recently who will lend a hand to the spaghetti dinner for the first time this year. Winnie Vernon moved in with family in Bonner Springs in May and previously was involved in the senior center near her former home in Lenexa.
"I do more here than I did where I was," Vernon says. "They offer similar activities, but here, I can walk to it. I've learned two new card games since I started coming here."
Another newer member, Betty Morris, has lived in Bonner since 2008 but only recently joined the senior center, where she said she enjoys the fellowship.
Both said they were quick to sign on to help with the spaghetti dinner.
"I believe in education, and I think it's a good cause," Vernon said.
Ramirez said it might also help if other organizations or clubs in the city could volunteer the night of the event.
"We used to have the sign up list with two shifts, and they were always full," she said. "We would take whatever help we can get."
The dinner is available from 4:30 to 7:30 p.m. Aug. 7 at the Sunflower Room in the Bonner Springs Community Center, 200 E. Third St. Tickets can be purchased for $6 in advance at the Senior Center or $7 at the door; children ages 4 and under are free.
Tickets include spaghetti, salad, garlic bread, a beverage and one dessert; additional desserts are available for $1 each. Carry-outs also are available. For information the event or volunteering, contact the senior center at 913-441-0169.