Sideline Chic moves into downtown Bonner Springs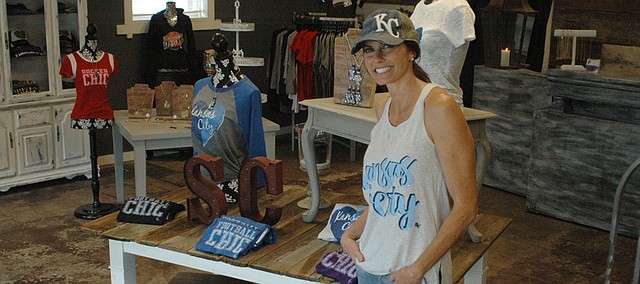 A growing business is staying true to its small town roots by moving to downtown Bonner Springs.
Sideline Chic is growing, with its women's athletic apparel available at stores in five different states. But Shawnee residents and owners Danni Boatwright, originally from Tonganoxie, and Julie Zitlow, originally from Pratt, jumped at the chance to move the wholesale business into the former Pink Zebra Boutique space in downtown Bonner, 221 Oak St.
"We thought, 'Why not have a little showroom, a little store?'" Boatwright said.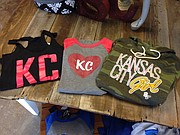 Boatwright, already a local celebrity as the 1991 Miss Kansas Teen USA, 1996 Miss Kansas USA and winner of CBS Survivor Guatemala in 2005, started the business more than two years ago because she wanted women to be able to show their fandom for all sports teams, from little leagues to the professional teams, and allow moms to create customized game day gear for their children's teams.
She said she also thought there should be more fan apparel options in women's cuts.
"Every time, it seems like, when you go in to shop for sports apparel, it's always junior sizes," she said. "So, we need more women's sizes."
Sideline Chic provides fan apparel for many specific teams, with licensing for several collegiate teams, including Kansas University and Kansas State University, and Kansas City shirts themed to the metro's professional baseball, football and soccer teams.
Their collegiate line has allowed them to be carried in major sports chain store Scheels, at its locations in Overland Park as well as Lincoln, Neb.; Des Moines and Cedar Falls, Iowa; and Fargo, N.D.
Sideline Chic shirts also can be found in smaller boutiques throughout the metro area — The Pink Zebra was one of those boutiques.
Boatwright said the business was operating out of a house her husband owned in Olathe, a property the couple had kept when the real estate market was bad but was now ready to sell. When they learned The Pink Zebra was closing, they decided it would be a great location for Boatwright and Zitlow, coming from western Shawnee, and Boatwright's mother and another employee coming from Tonganoxie.
With their own space, Sideline Chic now is planning to broaden their offerings for local high schools, Basehor-Linwood, Bonner Springs, Lansing, Mill Valley, Piper and Tonganoxie. They plan to have several "School Spirit" Nights, when customers can choose which shirt they would like and then choose the artwork for the shirt. The store also will do customized jerseys for football moms.
Sideline Chic will be open 11 a.m. to 4 p.m. Tuesday through Saturday, and on its School Spirit nights it will reopen from 6 to 8 p.m. The business already has had one Spirit Night Tuesday; events also are planned for Aug. 13 and 18.
While the store officially opened Saturday, it is planning a Royal Grand Opening Aug. 14, when it will premiere some new Kansas City-themed products.
And later this month, Boatwright said Sideline Chic will unveil its own line of shirts. She said they have been working with a Los Angeles shirt manufacturer so that their artwork can be placed on shirts of their own design with their preferred materials.
"It is so cute because it's more real fashion pieces," Boatwright said.
The business can be found online at sidelinechic.com and at facebook.com/sidelinechic.