Bonner groomer uses pet
CPR

to save dog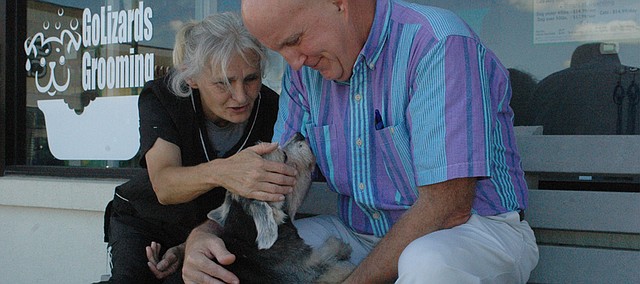 Shelly Dunn was amazed Tuesday when she was reunited with Duke, a 16-year-old beagle mix she grooms.
"You gave me quite the scare; it scared the daylights out of me," she told him as she watched him wander around. "Now, it's like nothing ever happened."
That's because on Monday morning, Duke had a seizure and stopped breathing while at Go Lizards Grooming in Bonner Springs, and Dunn had to resuscitate him using pet CPR, in which she happens to be certified.
"I didn't even know there was such a thing," Duke's owner, David Hicks, said. "But she brought him back, and he's as good as new."
Dunn said pet CPR is not a skill many groomers have, in her experience. She said she has a lot of veterinary technician experience, but she was certified by the American Red Cross in pet first aid and CPR in 2007 because a former employer required it — plus, she said, it was something she thought was important.
"I've always taken what I do seriously, and I enjoy working with the animals," she said.
She even carries her certification card with her in her wallet, and she recommended that if someone wants to know if their groomer is certified, they ask to see the certification.
Monday was the first time since becoming certified that Dunn has had to use her skills.
Hicks dropped off Duke — who has a heart condition and is on daily medication — and his two other dogs that morning for grooming.
While Dunn was grooming Duke, a customer came in to get their dogs, so Dunn moved Duke from the grooming table to the floor while she helped them. As the customer was leaving, Duke started to pee on the floor.
"No biggie," Dunn said. "Dogs christen the floor all the time. Just as he was finished, he went to take a step away — there was no stagger, nothing, he just all the sudden went 'oomph,' over sideways."
After Duke convulsed a couple of times in an apparent seizure, he stopped breathing. Dunn was able to resuscitate him once, and then again when he stopped breathing a second time.
It wasn't the first instance of good luck in Duke's life. As a puppy, he and his sister were deposited in a box on Hicks's front doorstep with a note.
"The note said 'We know that you care for your dogs; we hope that you can care for ours,'" Hicks said.
Duke's sister unfortunately was hit by a car two years later, but Hicks said Duke had made it 16 years without major issues.
Hicks said Duke tends to get stressed when he goes to the vet, and that plus his heart condition may have brought on the seizure. He said he and his wife are appreciative Dunn was able to help Duke.
"I want the folks in Bonner to know what an outstanding business we have in Go Lizards Grooming," Hicks said. "The groomer there is literally a lifesaver."