Late
BSHS

grad's classic car returning to Bonner for Tiblow Days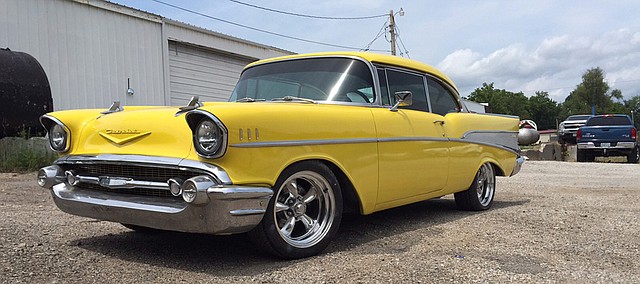 Carolyn Feilbach remembers how much her younger brother, Michael Graham, loved to work on his car in high school.
Graham and their father, James Graham, had found the rusted 1957 Chevy Bel-Air in a junk yard, and the father-son duo spent the next couple of years painstakingly fixing it up bit by bit.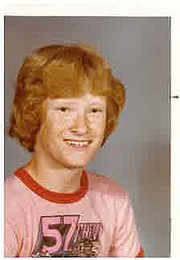 "He just kind of worked on it, just learning from experience, working with my dad," Feilbach said. "He had it driving, I know, around his junior or senior year."
Michael Graham had the car painted canary yellow, and Feilbach said for his friends at Bonner Springs High School, the car became synonymous with Michael.
It became even more important to the family after Michael was killed, along with three other Bonner Springs teens, in a tragic car accident on Kansas Highway 32 just a month after he graduated from BSHS. Now, it is coming back to Bonner Springs for this year's Tiblow Days festival, to take part in the Aug. 29 parade and car show — just in time for the 35th reunion of Michael Graham's Class of 1980.
Though police believed the car Michael and the other teens were riding in was run off the road, police and the district attorney couldn't get murder charges to stick to the teen who reportedly caused the crash.
"It's one of those things where it never really seemed like there was any closure to it," said Stormi Vitt, Michael Graham's niece. "Over the years, things get easier, and life goes on, but there was never any closure to it because there was no justice ever served for what happened."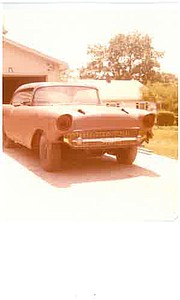 The car sat in James Graham's garage for 16 years after Michael Graham's death. Then Carolyn Feilbach and her husband, who had moved to California, Mo., offered to buy the car from her father to fix it up.
The Feilbachs took the car to car shows in their area for a few years, but eventually it sat in storage for a time again. Then their son, Josh Feilbach, asked if he could buy the car two years ago, and has spent the time since then fixing it up.
Josh Feilbach was born almost a year after his uncle died, but Carolyn Feilbach said she thinks working on the car has built a connection between her son and his late uncle.
"He's taken on the character of Mike; he says 'Oh, mom, no I haven't,'" Carolyn Feilbach said. "Being in that car, being a part of it, you almost feel a part of what he enjoyed. He's just kind of felt a part of what (Mike) felt."
Josh Feilbach has given the car a new suspension, fuel-injected engine, and heat and air conditioning, though the exterior of the car looks much as it did when Michael rebuilt it in the late 1970s.
Carolyn Feilbach, her sister, Sharon Freeman of Bonner Springs, and Vitt, who is Freeman's daughter, are working on a scrapbook of photos and Michael's items to display with the car. For example, Freeman found a list of everything that had been done to fix the car in Graham's wallet after his death.
Vitt also put the word out on Facebook and already has received a lot of responses.
"When this happened, it shook the whole town," Vitt said. "You don't hear of this kind of thing happening even now, so 35 years ago, it was just horrible… a lot of people will remember that, and I know that he has classmates who are so excited to see it."
The Tiblow Days Parade will begin at 9:30 a.m., traveling down Nettleton from Morse Avenue to Oak Street, and the Car Show will begin at 11 a.m. on Oak Street.