QB

Byers ready to lead Bonner Springs offense
When it comes to high school football, having a returning quarterback is a big advantage that not all teams are afforded. Luckily for Bonner Springs, Connor Byers is back to lead the Braves' offense to new heights in his senior season.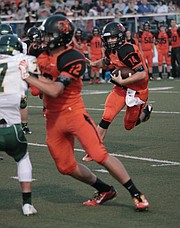 Byers, who stands at 6-foot, 185-pounds, is hoping that his final campaign wearing Bonner Springs orange can be a productive one. The Braves seem poised for a successful season after finishing last year with a 7-3 record.
But it's also an important year for Byers individually. According to coach Lucas Aslin, he has aspirations of playing collegiately. As the season gets started, Byers will have plenty of opportunities to showcase his skills against some tough competition, both as a passer and a ball carrier.
"Our offense runs through him," Aslin said. "We want to be balanced, and everything we do will be based off a read from our quarterback. He'll get us in the right play."
Byers had an impressive junior season, completing 63 percent of his passes for 1,889 yards and 20 touchdowns against only five interceptions. He averaged more than 15 yards per completion and threw for 200 or more yards six times. Byers was also a force in the ground game, rushing for 658 yards and eight touchdowns. He had three 100-yard games and averaged nearly five yards per carry.
Byers' most gaudy performance came in Week 2 during a 32-30 victory over Chanute. He finished 19-for-26 for 322 yards and five touchdowns and added 49 more yards on the ground while leading the Braves to an early-season triumph on the road.
"I have high expectations for myself," Byers said. "That's my personality, and I want to do better than what I did last year. I'm going to go out there and try to show my skills off, but I also have my teammates' support. I have some great athletes to play with out here. We've got skill all over the place. We have linemen who want to go out there and get nasty, give Marcell [Holmes] running lanes and give me the chance to throw to some of our top receivers."
The Braves' offense averaged nearly 30 points per game last season and scored 27 or more points in seven contests.With several key skill players returning, Bonner Springs certainly has a chance to improve on its clip of 368 total yards per game. But Aslin is the first to admit, any success the offense and the team has this season all starts with the man running the show.
"We have a quarterback who wants to be recruited and is a good player," Aslin said. "I told him, 'Dude, it comes down to stats for you. Stats and wins.' Good quarterbacks don't take their teams to a 3-6 record. Good quarterbacks don't lose in the first round of the playoffs. Good quarterbacks get in the playoffs and win two or three games. I said, 'If you want to go where you want to go, that's what we've got to do as a program. You're our guy.'"
---
Jon Poorman is the sports editor at The Chieftain. Follow him on Twitter at @JonPoorman for all of the latest community sports news.