Thrills and chills: Organizers expecting bigger, busier Tiblow Days
Concert main act, zip line likely to draw crowds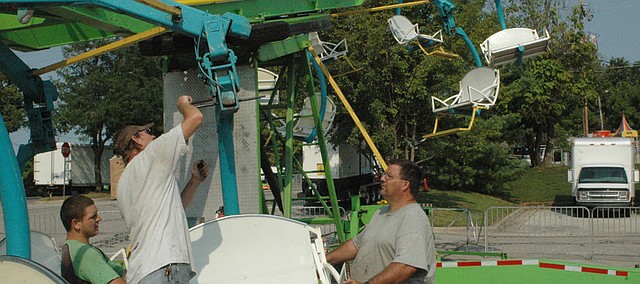 Festival attendees are used to spinning through the air on the Tiblow Days carnival rides at Second and Elm, but this year, they can also zip through the air in Centennial Park.
Bonner Springs-based Adventure Zip KC is bringing its portable zip line to this year's festival, and along with a few other changes, Tiblow Days will have a bit of a different look this year. But the big news may be the main act for Saturday evening's free concerts, Tate Stevens, a former winner of the reality competition show The X Factor and native of nearby Belton, Mo.
"Tate has his own Tate Nation, so it's blowing up all over social media, people are calling, asking how to get here," said Regina Utter, executive director of the Bonner Springs-Edwardsville Chamber of Commerce, which organizes Tiblow Days. "It's definitely the busiest I've been as far as phone calls in the past three years, so we're hoping for a really nice crowd — and it's supposed to be really good weather."
Both the Friday and Saturday evening concerts this year feature country music bands, a change from previous years, when one night was dedicated to rock music and the other to country. Utter said the chamber has heard from fans of both music genres asking for their preference.
"This year, we thought that people always keep asking for country, so let's just try this," Utter said.
Utter said Cars for Heroes will donate a vehicle to an unnamed Edwardsville veteran during Stevens' concert about 10:10 p.m.
Adventure Zip KC approached the city to bring its portable zip line to Tiblow Days. Because of the number of trees and power lines in the downtown area, there was really only one place to put it.
The zip line will be set up in Centennial Park southwest of the gazebo and caboose, running from Second Street to just behind Kobi's Bar and Grill.
Another change: The Tiblow Days Car Show, 11 a.m. to 2 p.m., will be on Cedar Street rather than Oak Street this year, though if Cedar fills up, some overflow might move to Oak.
"It's always kind of been a hassle to do the cars on Oak Street right after the parade, to get them lined up and parked just perfectly," Utter said. "And some of the car owners have been leery of parking on Oak because of all the children, the strollers and the wagons, so we're hoping that this might help."
Those two changes have meant slightly less space for vendors, so the parking lot on the northwest corner of Second and Cedar will be dedicated to craft vendors who don't need to use electricity for their booths, and it's sure to be packed.
"I'm not sure if it's the Tate Stevens draw, but I've had 30 to 40 people call in the last two days asking if they can get in," Utter said Wednesday. "I've turned several away because I am jam packed."
With the changes and more full street closures, Utter said festival attendees should try to plan in advance for parking. One small help with be a golf cart shuttle service, which will make loops around the downtown area to pick up festival goers at the intersections of Third and Cedar, Second and Cedar, Second and Elm or Nettleton Avenue and Oak to take them to their cars.
Jones and Company, which has provided the Tiblow Days Carnival for several years, also announced that the food they offer may soon be famous.
Owner Carl Jones said the Food Network visited the carnival at an Iowa festival recently to record for a new show, Carnival Eats. Specifically to be featured on a show that will air Sept. 24 were the cream puffs in the funnel cake trailer, the elk and buffalo sandwiches and the "Screamer," an ice cream and bacon sandwich.
The latter will not be available at Tiblow Days, but there will be one new food option: deep-fried corn on the co
The carnival runs from 3 to 11 p.m. Thursday, 11 a.m. to 11 p.m. Friday and 9 a.m. to 11 p.m. Saturday.
Among other Tiblow Days related events will be the City Band Concert at 8:30 p.m. today, the Mayor's Banquet at 6 p.m. Friday at Bonner Springs High School and the Third Street Asylum Haunted House preview, 8-11 p.m. Saturday for a $20 entry fee.
The First Christian Church, 148 N. Nettleton, will offer the Tiblow Days Breakfast from 6 to 9 a.m. Saturday, with all-you-can-eat biscuits and gravy, pancakes, milk, juice and coffee. Admission is $6 for adults and $3 for children ages 6-12; children ages 5 and under are free. Proceeds support the annual Community Thanksgiving Dinner.
The 37th Annual Tiblow Trot 5-mile run and walk will start at 7 a.m. Saturday at Kelly Murphy Park. Advance registrations can be made online at bonnerspringsrotary.org. Registration is $25 in advance and $30 the day of the race. Children ages 12 and under participate for free; children's event T-shirts are $10. All funds raised go toward scholarships and Rotary International's Polio Plus Program to end Polio worldwide.
On Saturday in Kelly Murphy Park, the schedule is as follows:
11 a.m.: Presentation of Trophies
11:15 a.m.: Bonner Springs High School cheerleaders, dance team, Clark Middle School cheerleaders
11:45 a.m.: Sarah's School of Dance
12:30 p.m.: Kristi's Academy of Dance
1:30 p.m.: Grand Master Kim's Taekwondo
2:15 p.m.: Shimmy and Shake
3 p.m.: Legacy Dance Studio
4 p.m.: Cub Pack 3149 Pinewood Derby