The Business of Growing: Basehor farm's herb production continues to expand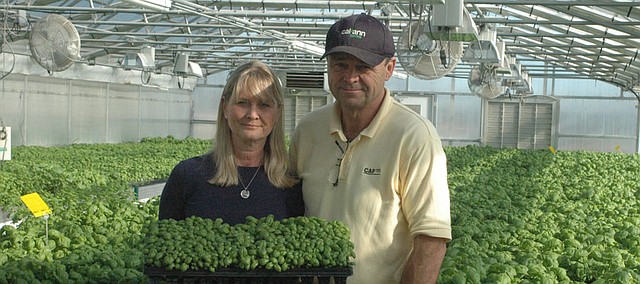 At Cal-Ann Farms, living herbs are produced for local grocers year-round.
Every plant is handled by hand, using only all-natural pest repellents, and every one is inspected before it is packaged at the Basehor farm. Pam Meyer, who runs the business with her husband, Jeff, said because of that, workers could sample any herb in their greenhouses or packing room with no fear.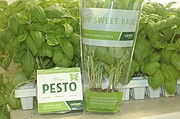 "The thing that we believe is people ought to have products that they don't have to worry about," she said. "If it's not good enough for us, it's not good enough for anybody else. We're very picky about quality."
The commitment to quality has served Cal-Ann Farms well in the decade since it has turned to herb production, and now, in the middle of fulfilling holiday orders, the more than century-old farm is once again starting something new: online, home delivery orders through a partnership with Shatto Milk, as well as selling its own line of pesto, set to hit stores Wednesday.
The farm has gone through many changes since Jeff Meyer's great-grandfather purchased the property off Parallel Road from a railroad company in the late 1800s. His grandfather and father converted it to a dairy farm; his parents, Calvin and Annette Meyer, adopted the name Cal-Ann in 1979.
Jeff and Pam Meyer decided to dedicate the farm to beef cattle and crop farming, but they wanted to find a use for the buildings that housed the dairy operation.
About 13 years ago, they started with aquaponics, a method of growing fish and plants by combining aquaculture and hydroponics. They converted the milking barn to a large fish tank and began growing vegetables in a small greenhouse.
"It started out as a hobby, something to do with the buildings when we quit dairying," Jeff Meyer said. "It grew into more demand for the vegetables than the fish, and we had a request to grow some living herbs from Ball's Foods."
After doing some research, the Meyers found they could fill a large demand for locally grown herbs. And it seemed the fates were in their favor from the moment they committed to herb farming.
"So we went to the bank and said, 'Hey, we want to borrow some money for a greenhouse,'" Pam Meyer said. "And (the banker) looked at us kind of dumbfounded, and he said 'Somebody just walked out of here 15 minutes ago wanting to sell their greenhouse.'"
Since relocating that first greenhouse, Cal-Ann Farms herb production has expanded to four greenhouses. They now produce mainly Genovese basil, but also lemon, lime, Thai and purple varieties. They also grow other live herbs: chives, dill, mint, oregano, rosemary, sage, savory, tarragon and thyme.
The number of stores carrying Cal-Ann herbs has expanded as well; in addition to Ball's Price Chopper and Hen House stores, it can be found in Hy-Vee and most independent Price Chopper stores as well as Whole Foods and Houston's on the Plaza, totaling about 70 stores in the Kansas City area, from Raymore, Mo., to Lawrence.
"It's pretty much if you go into the stores, you should be able to see it," Pam Meyer said.
With their focus shifted to herbs, Cal-Ann stopped its aquaponics about three years ago, but raising fish proved to be a valuable lesson in operating without synthetic pesticides, a practice they have carried over into their hydroponic herb production.
"We're not organic, per se, but we do everything as close to organic as possible," Pam Meyer said, explaining that organic designations require the produce be grown in the earth, so they don't currently apply to hydroponics.
To meet the demand and ensure the quality of the herbs, the Meyers take orders about every other day, depending on stores' needs.
"Because we want it to be fresh," Pam Meyer explained. "I get the orders, send it to the guys in the greenhouse, and then they pull the amount of plants we need to be packed that night, and we get it immediately delivered to the stores the next morning."
Cal-Ann stays extra busy from the end for spring until the end of summer, and after a brief lull at the start of fall, production picks up for the holidays.
"We sell all of (the herbs) all year round, but they all kind of have their special season," Pam Meyer said.
Thanksgiving is the busiest time of year for the other herbs; this Thanksgiving, Cal-Ann shipped approximately 5,000 sleeves of basil and more than 7,500 individual herbs. Usually, they average about 2,500 individual herbs per month, while peak months for basil total about 12,000 sleeves per month.
"We don't even have the space to fill all the orders that we could," Pam Meyer said. "We still have people wanting it, but we take these little steps in growth to see if we can handle it before we put up another (green) house. And the thing is we don't use any automation — we have people, we have employees."
But they are expanding in another way. They have long wanted to find a way to use their "extra" basil rather than composting it.
Utilizing some Italian-born experts, who happened to also be their customers, they developed a recipe as close to an original Italian pesto recipe as possible and used it when they would do in-store demonstrations of their products.
"We had a lot of people say 'Oh, this is so good, are you going to sell this?'" Pam Meyer said. "We've been talking about it for a while, and we finally got things all lined up."
Cal-Ann also has recently partnered with Shatto Milk, which is offering a home delivery service of its milk along with other local products through online orders. So their herbs, as well as their pesto, can be ordered for home delivery, something the Meyers find special given their past in the dairy industry.
"It's almost like a full turnaround, that our products are part of the milk home delivery service," Pam Meyer said.
Learn more about the farm at calannfarms.com.